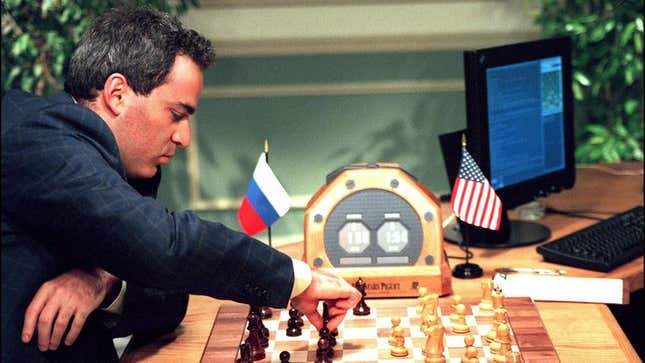 Twenty years ago today, computer Deep Blue made history by beating world champion Garry Kasparov in a game of chess. The Onion looks back at some of the most important moments in the development of AI technology:
600 B.C.
Persian scholars begin to worry their abacuses are getting too powerful
1943
Arturo Rosenblueth, Norbert Wiener, and Julian Bigelow define the field of cybernetics, still in use today to help people make purchases without getting up
This Week's Most Viral News: September 29, 2023
1950
Alan Turing invents the Turing test, a method of determining when it is already too late
1961
The world's first industrial robot, Unimate, begins suggesting to workers at a General Motors plant that maybe this whole union thing isn't all it's cracked up to be
1979
After decades of attempts, MIT researchers successfully design a robot capable of beating a human at Twister
1998
Furby domesticated
2002
iRobot releases the Roomba, a machine that autonomously bumps into things around the house
2009
Google's first self-driving car successfully plows over a San Francisco homeless man
2011
In the show's most highly anticipated episode ever, the computer known as Watson hosts Jeopardy!
2013
Apple's Siri recommends a restaurant that's not even fucking close to this neighborhood
2021
Disney World's Country Bears rise up against their oppressors