VIDALIA, GA—Millionaire Georgia businessman Hoyt Mullins, Republican candidate for the U.S. Senate, told supporters at a campaign stop Monday that he can do for the government what he did for turkey ranches.
"Starting with just two employees in 1979, I built a $165 million-a-year turkey-ranching operation that now employs more than 350 people," said Mullins, who is seeking to take Democratic incumbent Max Cleland's seat. "If I can do that, just imagine what I could do for the state of Georgia and this nation."
"If the U.S. government were a corporation, it would have gone out of business long ago," Mullins continued. "Congress is the only place where you can operate at a loss for decades without worrying about going belly-up. What Washington needs is somebody with an eye on the bottom line. And the bottom line is what Hoyt Mullins is all about."
Though he has no experience in government or law, Mullins has been successful in the private sector. Over the past two decades, he has transformed Mullins Turkey Farms from a small family-owned turkey farm into Georgia's third-largest poultry producer, encompassing 26 turkey ranches, three turkey-processing plants, and a turkey-products distribution network.
Mullins hopes to put this experience to work serving the needs of the American people.
G/O Media may get a commission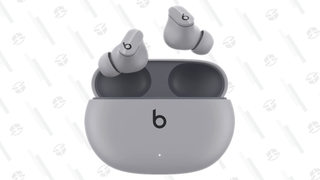 "In business, the key is to keep the customer satisfied," Mullins continued. "You, the customer of this government, have received terrible service, but unlike in the business world, you can't just leave and go to a competitor. America's customers deserve better."
Added Mullins: "I didn't expand my turkey enterprise into a 26-ranch operation by wasting money on a bunch of bureaucratic nonsense. In this current economy, our nation needs to cut out the fat. Cut it out, process it, can it, and sell it as gravy."
Since deciding to run for office, Mullins has been brushing up on his knowledge of federal law and congressional procedure.
"I may not know all the ins and outs of legislating quite yet, but I do know one thing," Mullins said. "I know a line of bull when I see it, and none of that is going to get by Senator Mullins. The buck stops here. You can print that."
Mullins said he decided to run for Congress "after getting fed up with watching those yahoos on the TV mucking up everything up there in Washington." After forming an exploratory committee to assess his chances, Mullins converted $2.4 million of his own assets into cash and hired a team to organize his bid for the Senate.
Mullins said he has many plans for improving the "shameful, messed-up situation in our government."
"I've run a business for 23 years, and not once have I had a budget deficit," Mullins said. "If I wanted to expand, I did it by selling more turkeys. This country needs to be selling more turkeys."
"When I want something done, I want it done now," Mullins continued. "None of this filibustering and committeeizing. When I say, 'Get that pile of feathers outta here,' it'd better be gone the next time I walk around that outbuilding."
According to Mullins, fundamental to making a business—or a government—work is streamlining the process, or "quickening up the turnaround."
"I know about government log jams," Mullins said. "I've dealt with log jams all my life. When something is holding up the processes of our democracy, you've just got to get in there with a broom and clean out all that muck that's been collecting. Just take the stick end of a broom to it and scrape out all that gunk—all that dirt and grease and hair and gristle and chunks of Lord-knows-what, beaks and feet and other what-have-you."
Mullins, who is seeking the Republican nomination in the Aug. 20 primary for the right to face Cleland in November, leads rival Saxby Chambliss by a slim margin in most polls.
During an appearance at a Columbus, GA, senior center last week, Mullins responded to Chambliss' charge that he lacks the experience to be in Congress.
"I've got experience," Mullins said. "Hell, I've got more experience than half the Senate and House combined. In my life, I've been a truck driver, a warehouse manager, a car salesman, an auto mechanic, an accountant, a ditch digger, a chicken plucker, and a shit shoveler. If that don't qualify me to run this country, I don't know what does."