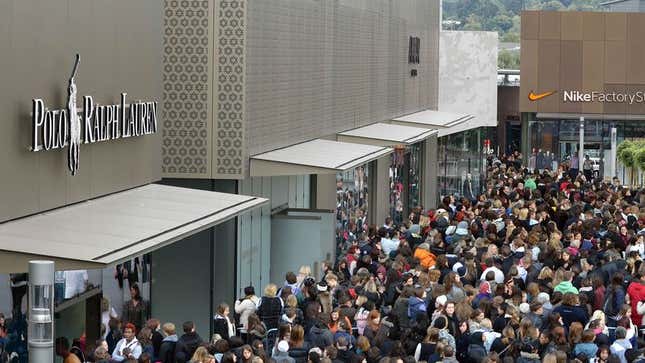 CENTRAL VALLEY, NY—According to reports from across the country, millions of moms set out Saturday morning on a mass pilgrimage to the premium outlet center, following in the footsteps of mothers before them who for ages have participated in the same sacred rite.
CDC Issues Dire Warning That Nick Cannon Is Feeling Horny
The moms, many of whom undertook arduous journeys of more than two hours, reportedly sought to attain discounts of up to 65 percent on name-brand fashions and accessories, braving the teeming throngs of fellow pilgrims who inevitably overwhelmed the parking garages and landscaped pedestrian walkways of the venerated site.
"Oh my God, it's so beautiful. I'm in awe just being here and seeing these incredible bargains with my own eyes," said Philadelphia-area mom Debbie Palmer, 41, as she walked her first of several ritual circles around Dior, Armani Exchange, Ralph Lauren, and two dozen other hallowed storefronts. "It wasn't easy traveling here, but it was worth it for the opportunity to take part in something like this. It's truly overwhelming. Everything's on clearance, and the huge savings are just so inspiring."
"I wasn't prepared for just how transformational this day would be," added Palmer, wiping away a tear as she picked up a five-piece hand towel set marked down to $23.99. "It's a dream come true."
"I wasn't prepared for just how transformational this day would be. It's a dream come true."
Clad in the traditional pilgrim's garb of comfort-fit jeans, a light jacket, and Aerosoles slip-ons, a sea of mothers—who timed their journeys to coincide with annual Columbus Day weekend sales—reportedly swarmed in front of the outlet center's directory and performed ceremonial invocations, reciting the names and map coordinates of the retailers they wished to visit. Sources said that in keeping with tradition, the amassed moms then congregated around a scarf in a Burberry window display and chanted, "Oh, that's cute," before continuing on to the Nike Factory Store, Last Call by Neiman Marcus, and Zwilling J.A. Henckels.
According to witnesses, most of the pilgrims only paused in their spiritual quest to partake in the modest meal of a small, no-topping Pinkberry cup or to make their way down the narrow thoroughfare between the Clarins and Ferragamo stores to where the "nice bathrooms" are. Soon after their arrival, reports confirmed, mothers were already bedecked in a variety of shopping bags from the outlet center's more than 200 holy sites, and as the day wore on, many within the swelling, overheated crowds could be seen removing their windbreakers and tying them around their waists.
"For as long as I can remember, I've felt that I had to make this journey and experience the marked-down prices for myself," said Bethany Haskell of Baltimore, a 39-year-old mom who bowed alongside dozens of other women to inspect a set of Crate & Barrel candleholders. "Yes, there were obstacles: a missed turn on Google Maps, getting a good parking spot near the entrance, standing in long lines for fitting rooms with moms who didn't even speak my language. But it's all worth it once you're at the register getting two really great handbags for the price of one."
Sources told reporters that due to the massive influx of mothers, the site perennially suffers from overcrowding, as evidenced by the significant wait time required to purchase decaf hazelnut coffee at the Pret a Manger. In addition, they said, pilgrims routinely require medical assistance, especially elderly grandmothers who are in poor health but have nonetheless devoted themselves to purchasing early Christmas presents at the Samsonite and Yankee Candle stores.
"I can't describe how overwhelmed and happy I felt the moment I walked into the Tommy Hilfiger outlet and saw a pair of khakis that was just perfect for my little Miles," said Mary Alvarez, 36, a Boston-area mother of three. "But getting 25 percent off bed linens for the whole family was the most thrilling part. And it's so great to know that one day, when my daughters are old enough, they too will have this wonderful experience."
"This has reaffirmed my faith in designer labels, which I truly believe are available to anyone willing to endure hardships and make sacrifices for them," she added.
At press time, reports confirmed that more than 300 mothers had been crushed in a stampede after the North Face suddenly marked down all its fur-lined winter coats to half price.