PITTSBURGH, PA–Arcane, poorly translated scrolls etched by an unknown hand thousands of years ago were taken at face value Monday, when Pittsburgh orthodontist Donald Reuss consulted an English translation of a Hebraic manuscript titled "Deuteronomy" for guidance in a personal crisis.
"I was at my wits' end over what to do about my failing marriage," Reuss said. "Marjorie and I thought about counseling, therapy, even divorce. In the end, though, I got the help I needed from a book of stories inscribed by an itinerant Middle Eastern shepherd many millennia ago."
Reuss said he learned of the antediluvian text from a friend following an argument with his wife. "Bob said he had a book that I should read," Reuss said. "I figured it would be some sort of self-help book written by one of those professional therapists born in the latter half of the 20th century. But to my surprise, it was a contemporary printing of a historical and genealogical account of the growth and persecution of the Jewish people, originally written in ancient Hebrew. And you know what? Not only were the tales relevant to my situation, they're completely true!"
Deuteronomy, like the four other books with which it is often collected, is believed to have originated from the oral folklore of nomadic Jews who wandered the deserts of the Middle East. The stories that emerged from this oral tradition were handed down through subsequent generations and ultimately written down in now-dead tongues. In the modern era, the books have proven to be of great interest both to historians specializing in ancient Middle Eastern tribal cultures and to people with problems.
Reuss is not the only troubled American to consult an ancient Nile Valley manuscript in recent years. In April 1998, Wayzata, MN, homemaker Brenda Smolensk credited "Exodus" with guiding her through a period of severe depression.
G/O Media may get a commission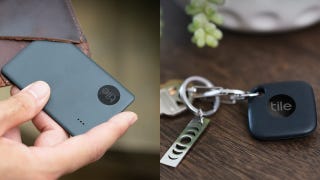 Up to 35% off
Tile Item Trackers
"I was deeply confused about my place in the world," Smolensk said. "I needed to know what life was all about, what I was put on Earth for. Luckily, that exact matter had been discussed in Exodus by a roving scribe some 4,000 years ago."
"At first, I was skeptical about what relevance these ancient writings could possibly have to my situation," Smolensk continued. "But they actually deal with all kinds of germane topics, from what meats one should not eat due to mankind's lack of refrigeration technology to the pre-Iron Age accounts of territorial disputes affecting a certain area of the Fertile Crescent."
"We are pleased that so many have found comfort and guidance in God's word," said Peter Wanamaker, president and founder of In His Name Books, a publishing house specializing in archaic texts of the sort which aided Reuss and Smolensk. "The problems that plague modern man have not changed, and neither have the solutions."