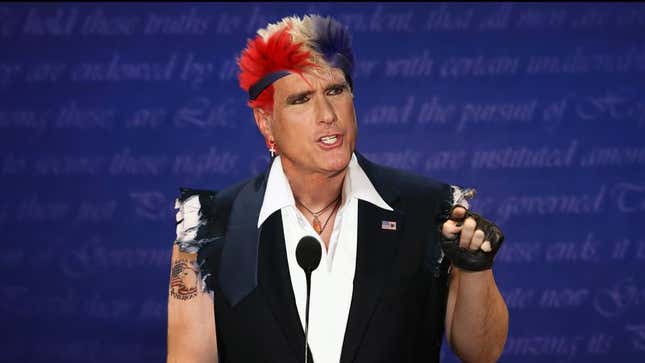 DENVER—Saying that he wasn't going to take any shit tonight and that the debate podiums "looked just as fucking lame as all the dressed-up suits in this godforsaken hellhole of a room," Republican presidential candidate Mitt Romney appeared tonight at the University of Denver's Magness Arena as Ronnie Ferocious, the aggressive, no-rules punk-rock persona he has reportedly adopted for his three debates against President Barack Obama.
Study Finds LSD Highly Effective At Ruining Nephew's Baptism
Wearing a sleeveless cutoff suit jacket, tight leather pants, and a blue tie knotted around his head of spiky, red-white-and-blue-streaked hair, Romney swaggered on stage, took his position beside Obama, and ordered debate moderator Jim Lehrer to "fucking do this already."
"You know what? I'll ask the first question," the former Massachusetts governor said before putting out his cigarette on his forearm and flicking the butt at Lehrer. "What kind of little shit show do we have here this evening, folks? That's my question. Because from where I'm standing, seems like a big ol' shit show. And Lehrer, shut your fat mouth when Ronnie Ferocious is talking, or I'll pound your goddamn face in."
"As for you, Mr. President, you can wipe that smug grin off your face or I can do it for you," he added before sticking out his diamond-pierced tongue and wagging it at everyone in the auditorium. "I don't need any of that 'Forward' shit from you tonight."
After he signaled sound technicians to cut the Dead Kennedys' track blasting from the speakers and kissed his large bald eagle tattoo, Romney proceeded to offer his opening remarks on domestic policy, a low 45-second moan that turned into a high-pitched howl, which political analysts speculate may have been about health care, discretionary spending and entitlements, gay marriage, the Dream Act, or some kind of food or taxes.
When asked by Lehrer to elaborate on his response, Romney dropped his head in silence for five seconds before taking a swig of bourbon, kicking over his podium, and marching up to the moderator's table.
"Where the hell do you get off, huh?" Romney asked Lehrer before tossing his empty flask on the table and head-butting the journalist in the forehead. "You wanna ask Ronnie a question? Do you?"
"Here's what I think about raising taxes on the nation's top 2 percent of earners," he said before grabbing his crotch and performing a jerk-off motion with his hand. "Suck on that."
While very few were aware Romney would adopt an alter ego for the debates, sources confirmed that loud music was heard blaring from the candidate's dressing room two hours before he was scheduled to take the stage. At approximately 7:30 p.m., three blond women dressed in short miniskirts and red leather tube tops entered the room carrying multiple bottles of Jack Daniel's.
At one point, Ferocious was observed throwing a chair through the dressing room mirror.
"You can all go to hell," a visibly intoxicated Romney told the debate audience. "Straight to bloody hell, especially if you reelect President Obama, who would give us nothing more than four more years of a stagnant economy, constant apologies for American values at home and abroad, and a fiscally irresponsible approach to bringing down our national debt."
Romney then began barking like a dog right in President Obama's face.
According to Romney's staff, Ronnie Ferocious is a tough-love candidate who accurately represents the Republican nominee's hardcore stance on both improving the economy and fighting for middle-class Americans.
"I would say Ronnie is a cross between Sid Vicious and Ronald Reagan," Romney adviser Jim Talent said of the Ferocious persona, which Romney conceived of several days ago when, during a bus ride through Nevada, he began painting his fingernails with black nail polish. "He has a pro-business, pro-growth agenda, but a nihilistic, apathetic disdain for big-government excess and poor job-growth initiatives."
"And most important, deep down under his hardened punk-rock exterior, and through the haze of alcohol and cigarette smoke, Ronnie has a really sweet soul and a huge heart," he added.
Over Twitter, debate watchers expressed measured approval of the brash new doppelgänger. While some felt his reckless energy and heavily tattooed appearance were too extreme for a political leader, others admired his bold initiative, particularly when he slammed a glass tumbler on the podium and told the audience he would "drink anything [they] put in this cup. Especially piss."
"On the one hand, Ronnie Ferocious isn't as composed as Obama," undecided Colorado voter Brendan Thompson said after an early question in which Romney strutted to the back of the auditorium, leaned against the wall, and said, "I'll stand wherever the fuck I want to stand." "But at the same time, I think he could be just what the country needs right now. Yeah, I guess I like Ronnie Ferocious."
At press time, Romney called for a profusely bleeding Lehrer to either move forward with the debate or "man up and punch [him] in the balls."