MILWAUKEE—In a tersely worded press release Tuesday, Major League Baseball sent a strong message to the thousands of college, high-school, and Little League athletes who have voiced their desire to someday become professional baseball players: "You're too late."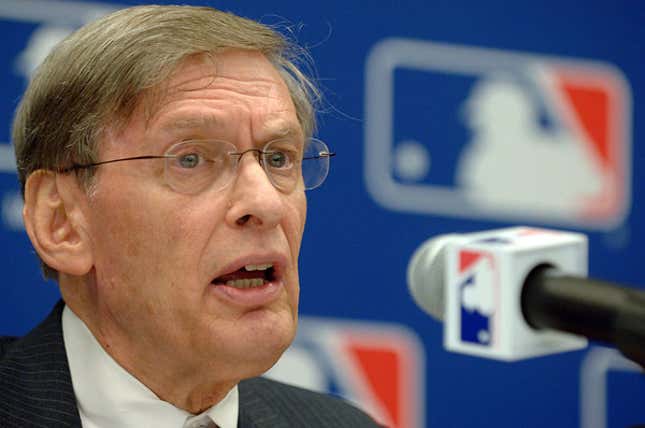 This Week's Most Viral News: September 29, 2023
"While we recognize that there are many eager, qualified candidates still out there, right now we have found a good mix of versatile, talented players whom we think will be a part of this league for a very long time," the statement read in part. "We ask that you and/or your agents immediately cease all attempts to contact representatives from the 30 MLB teams."
"We thank you for your interest in Major League Baseball, and wish you the best of luck in all your future endeavors," the statement concluded.
According to MLB commissioner Bud Selig, the 750 currently active baseball players have proven themselves more than capable in the areas of hitting, pitching, and fielding, thereby eliminating the need to search for any additional athletes.
"We already have every type of player you can imagine. Power hitters? Tons of them. Finesse pitchers? Check. Closers? Practically one on every team," Selig said in a press conference early Wednesday. "Leadoff men, outfielders, defensive specialists, backup second-basemen, bullpen catchers… In fact, I find it hard or impossible to think of a single position in which we are not currently overstaffed."
"Not only that, but we have some of the biggest names in baseball—Albert Pujols, David Ortiz, Derek Jeter, Johan Santana, the list goes on," Selig added. "Why would we bring in some no-name kid who's never played a professional baseball game in his life? It just wouldn't make sense."
In addition, the annual June amateur draft has been canceled, and players expected to take part in it have been asked to "look into other lines of work."
"I don't think anyone wants to sit through that long, tedious process ever again," Selig said. "Let's just go with the guys we've got."
Most league owners are in favor of the new policy, with some going so far as to say that there are "too many players as it is," and that Major League Baseball could "probably get rid of about 200 to 250 additional players without anyone even noticing."
"A team only needs nine men to play a baseball game," said Mariners CEO Howard Lincoln. "Right now, we're up to about 25. It's gotten out of hand. Every month, I write huge checks to guys who play one, maybe two innings a week—some of them I've never even heard of."
"In fact—and I didn't even know this—but apparently we have guys now who literally just come into the game to run," he added. "When you're at that point, it's hard to imagine what you'd hire anyone else to do."
MLB players also strongly supported the decision, claiming that "anyone who is not already in the major leagues probably isn't good enough to be here anyway."
"I've been playing this same position for 18 years," said 41-year-old Giants centerfielder Steve Finley. "If it weren't for this ruling, though, who knows—tomorrow, some hotshot 22-year-old kid could come along and take my job. That's just not how it's supposed to work."
According to recent polls, the only notable opponents of the decision are college and minor-league baseball players, male children ages 5 through 18, and Scott Boras.
The commissioner addressed the thousands of young men seeking employment as a ballplayer, telling them "not to waste [their] time" and informing them that there are "other ways to get involved in Major League Baseball."
"If you truly love the game of baseball, there are still many employment opportunities in and around the ballpark," Selig said. "We always need ticket-takers, hot-dog vendors, grounds-crew members, and bat boys. Just because you can't be a baseball player doesn't mean you can't be an important part of the game."
Selig then encouraged all prospective players to periodically check the league's official website, as they will make sure to post temporary job openings due to player injury or sickness, as well as any other MLB career opportunities should such positions become available.