ST. LOUIS—In the midst of a slightly jarring postseason that now features just two of the same four teams that advanced to last year's league championship series, Major League Baseball commissioner Bud Selig announced that the 2006 season will mark a return to the standard old formula that has kept fans complacent with the national pastime for the past several years.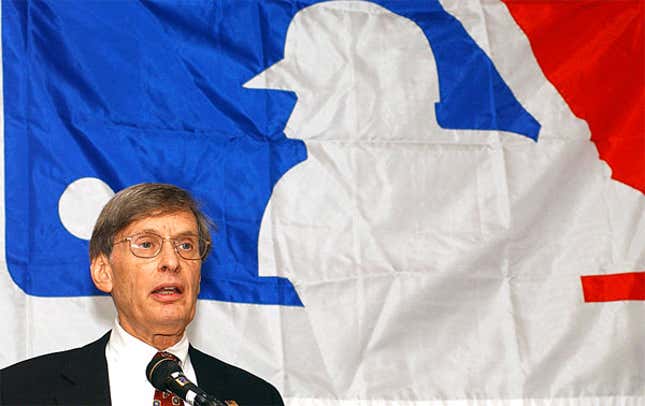 Study Finds LSD Highly Effective At Ruining Nephew's Baptism
"If you thought 2005 was predictable, we've got even less surprises in store for you in 2006," Selig said at a press conference Wednesday. "You won't have to pay attention at all to know which teams are atop the standings and which players are leading the major statistical categories."
"Lee, Ramirez, Zambrano, Jones, Hernandez," Selig said. "Players with those names alone will account for a combined 247 home runs and a total of 92 wins."
Among other things, Selig promised another 90-loss season for the Detroit Tigers, an ALCS that pits the universally known Yankees versus the universally known Red Sox, and the 15th consecutive NL East division crown for the Atlanta Braves.
"Angels first place, A's second place, Rangers third place, Mariners last place," Selig said. "Sound familiar yet? If not, get used to it, as that will be your AL West for the next 20 or so years."
Selig also guaranteed a return to dominance by left-handed hurler Randy Johnson, who confused and startled longtime fans with his uncharacteristic performance in 2005. "Next year, the Big Unit will be back to his old tricks, striking men out and leading the Yankees to an easy, uncontested division title," Selig said.
Players and owners around the league are supporting the commissioner, saying that baseball is a sport built largely on tradition. "People associate baseball with stability, be it the Yankees' perennial success, Cal Ripken Jr. playing in over 2,000 consecutive games, or the between three and five outstanding catches Jim Edmonds makes each year," said new Tampa Bay Devil Rays owner Stuart Sternberg. "If maintaining the integrity of the game means allowing my team to finish in last place every year until 2012, then it must be done."
Sternberg added that the money he will fail to spend to make his team a contender will perfectly dovetail with the fans' beloved tradition of criticizing greedy owners while pointing out the stark market disparity in baseball.
Cardinals slugger Albert Pujols is pleased to know that he will be producing 30-homer, 100-RBI seasons from now until the foreseeable future. "It takes a lot of pressure off knowing that I'll be putting up MVP-caliber numbers again in 2006," Pujols said.
Selig stressed that the average fan should be able to "wake up from a three-year coma, look at the day's standings, and not notice that anything has changed."
"I don't have time to leaf through box scores or sit through entire games to know what's going on in baseball," said Doug Wentel, a casual Braves fan who takes comfort in knowing that his team will make the playoffs each year, and never builds up expectations of them ever advancing past the first round. "I want to be able to say 'Not looking good for the Cubbies, eh?' or 'How about that Barry Bonds?' at any given point during the season and seem like I know what I'm talking about."
2005 marked a healthy, successful campaign for certain players who have been hampered by injuries in recent years. However, Selig guaranteed that Cliff Floyd will reach his yearly quota of 70 games missed in 2006, and Ken Griffey Jr. will tear a hamstring within the first week of the season. "There is no harbinger of spring quite like the sight of Junior writhing in pain on the outfield grass after a routine play," Selig said.
According to the commissioner, the few surprise breakout rookies will be exactly the ones whose rise to stardom has been long predicted by experts. Sons and siblings of current and former major leaguers, like Stephen Drew, Jared Weaver, Prince Fielder, and Delmon Young, will burst onto the scene in much the same way their blood relations did just years before.
Selig pointed out that at the trading deadline this year, nearly 20 teams had legitimate chances of making the playoffs, significantly reducing the number of big-name salary-dump trades that fans have come to know and expect. "This year, there were so many teams in the running that fans were starting to experience information overload," Selig said. "Next season, we'd like the teams with realistic postseason chances whittled down to a manageable 10 by the All-Star break."
This bodes particularly well for the Yankees, Red Sox, Indians, Angels, A's, Braves, Marlins, Cardinals, Astros, and Padres.