RUTLAND, VT—Much like the prolific 19th-century French novelist Marcel Proust, local claims adjustor Eric Dressler generates prodigious volumes of prose, chronicling the most minute details of his life and experiences in a seemingly endless stream of e-mails, friend Kevin Honig reported Monday.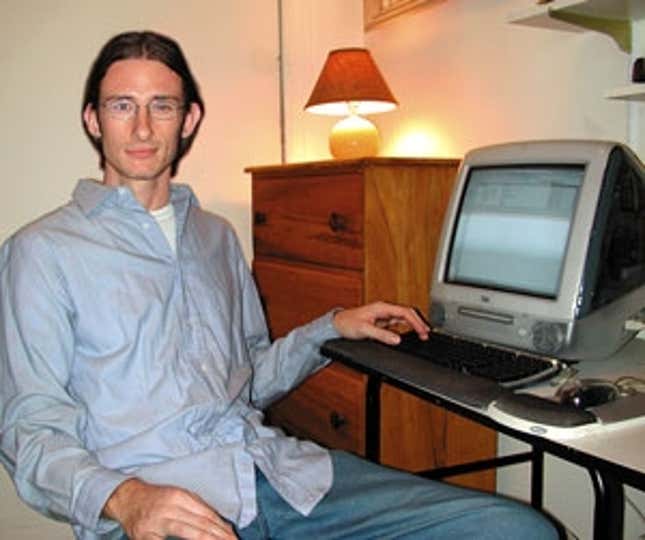 Edgelords Explain Why They Love Elon Musk
"Proust devoted the last decade of his life to writing In Search Of Lost Time, a massive, sprawling, 3,000-page semiautobiographical work that covers 13 volumes," said Honig, Dressler's best friend since college. "Well, the way he spends half his work day sending e-mails, Eric has probably turned out at least that much. I get, like, six or seven a day without fail."
Just as the collected letters of Proust fill dozens of volumes, Dressler has stuffed Honig's Outlook Express in-box with e-mails totaling thousands of pages and spanning years. The writings of each man are a winding psychological journey, weaving experiences from his everyday life with memories from the distant past.
"Clearly there is a higher purpose to these discursive ruminations," Honig said. "In describing in great detail the new dog his next-door neighbor just got or by writing about how he was tired and just drank three cups of coffee from the vending machine down the hall, Eric is seeking to rescue these moments from the clutches of the past. Proust had the same obsession with the inexorable passage of time."
Though he does not always read the full text of the e-mails, Honig said he still appreciates his friend's ambition.
"Eric's constant search for understanding and meaning is inspirational," Honig said. "Right here in the subject line of his latest e-mail lies the eternal question, 'What's going on, dude??'"
Continued Honig: "True, Proust's narrative speaks of steeples and promenades, dinners at the Guermantes' in Paris, and a madeleine dipped in a cup of tea. Dressler's e-mails, on the other hand, tend to talk about movies he saw or that new restaurant next to West Towne Mall where you grill your own steaks. But such is the world of a 21st-century man."
Honig noted that In Search Of Lost Time was less a story than an "interior monologue," adding that Dressler's writing possesses the same quality.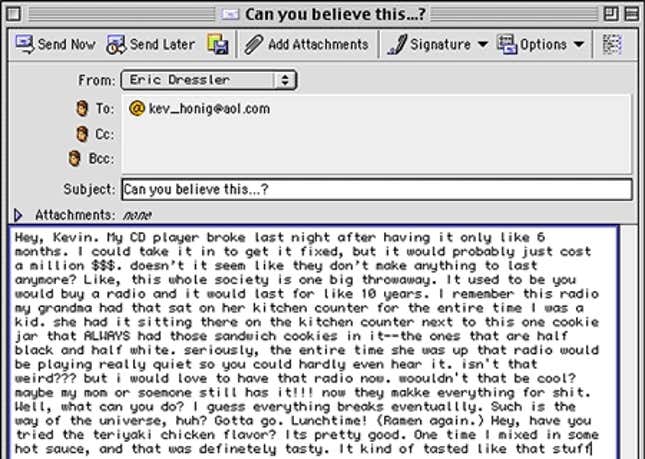 "In a way, Eric's e-mails aren't really even written to me at all, but to the ages," Honig said. "Why would he need to inform me that he hates the pants he's wearing that day? Obviously, he is not so much communicating a message to me as he is using metaphor and imagery to expound upon his protean worldview."
Dressler's writing style resembles Proust's in other ways, as well.
"In his letters, Proust often gives lengthy explanations for the most ordinary actions—an invitation to dinner might take several pages," Honig said. "Eric can sometimes take a really long time to get to the point, too. I mean, he can just say he needs his Memento DVD back. He doesn't have to go into the whole thing about why his sister wants to see it, and why and where they were when she asked."
Just as Proust's work is a catalog of the hundreds of characters populating his Parisian high society, Dressler's e-mails detail the activities of his family, "annoying" coworkers, and the greater Rutland community. From an e-mail message dated November 6:
"Last night at the grocery store I ran into, guess who… Donna Ramsted. She's moving to Burlington in 2 weeks, I guess. She's going to work at some business where Greg Pfeiffer is working, can't remember, some computer sorta thing. Remember when I was so hung up on her? I know it was just because I missed Diane L., but God was I pathetic. You live and learn, huh? Well, it's almost 5. See you at Lee's."
"I can hardly keep straight who all these people are," Honig said. "I really have to hand it to Eric, how he elevates the importance of certain events in his life while simultaneously revealing their essential hollowness."
Dressler and Proust are also both keen social observers. Like his literary forebear, Dressler frequently turns a critical eye to the follies and foibles of our world, in one recent case the overly litigious nature of modern man:
"Kev: was just reading the herald," read an e-mail dated Oct. 14. "Do you have a copy there? If so, gotta check out page 6. Seriously. Some guy left his snake on THE BUS and now he is suing the Greyhound people for letting it die. Isn't that so ridic??!!"
Just as some critics dismiss Proust's work as unbearably self-indulgent, Dressler is not without his detractors.
"God, Eric writes me these huge, long, rambling e-mails all the time," ex-girlfriend Julie Goldstein said. "I always feel like I should write him a decent message back, but I know I'll just get another one in a few days, so I usually just respond with something like 'Ha ha,' or 'Too bad,' or 'Funny one.' I guess he's satisfied with that. He's never complained that it's so one-sided. I guess he just feels like he's the one with all the important things to say. He always was a self-absorbed ass."