MINNEAPOLIS, MN—In a turn of events the 30-year-old characterized as "horrifying," Kevin Widmar announced Tuesday that his mother Lillian has discovered his weblog.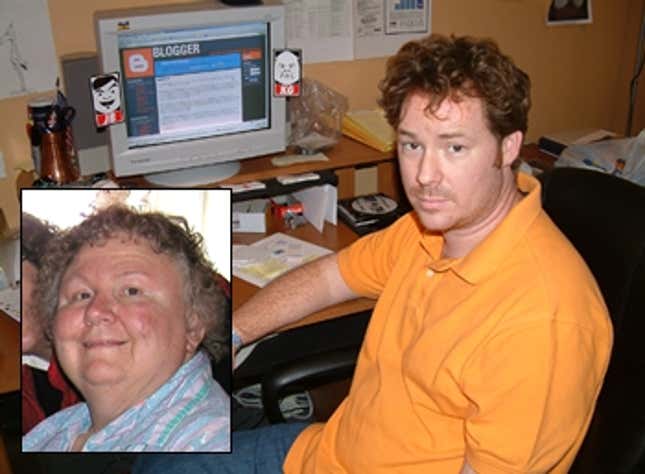 This Week's Most Viral News: September 29, 2023
"Apparently, Mom typed [Widmar's employer] Dean Healthcare into Google along with my name and, lo and behold, PlanetKevin popped up," Widmar said. "I'm so fucked."
In an e-mail sent to Widmar Monday, Lillian reported in large purple letters that she was "VERY EXCITED :)!!!" to find his "computer diary," but was perplexed that he hadn't mentioned it to her.
Upon receipt of the e-mail, Widmar mentally raced through the contents of his blog. He immediately thought of several dozen posts in which he mentioned drinking, drug use, casual sex, and other behavior likely to alarm his mother.
"I don't have one of those sites that's a big tell-all about one-night stands and wild parties," Widmar said. "I mostly write about the animation I like or little things that happen to me and my friends. But there are definitely things in there that I wouldn't, well, write home to Mom about."
Fortunately for Widmar, Lillian's comments about the site indicate that she has not delved deeply into its contents.
"Mom's main comment was that I look tired in the photos from my birthday party, so I'm guessing that she didn't get past the first page yet," Widmar said. "She will, though. She will."
Widmar said he expects his site to provide Lillian with ample cause for worry.
"Even on that benign front page, she found something to freak out about," Widmar said. "She read the entry for Monday, where I mentioned how much I hate my job, and e-mailed to say that she hoped I wasn't thinking of quitting in this economy."
"Mom had a fit when she found out that I put my television on my credit card," Widmar added. "If she reads about how I was with my friend Jayson when he got pulled over for drunk driving, I'll never hear the end of it."
"Oh God," Widmar said with a gasp. "Three days ago, I wrote something about buying pot!"
Widmar said that the idea of his mother immersing herself in the boring details of his life is just as frightening as the idea of her discovering his misconduct.
"Really, the blog is just a record of what I think about the world and how I spend my free time," Widmar said. "In other words, exactly the sort of information that no 30-year-old wants his mom to have access to."
Widmar said he imagines his inbox filling up with e-mails containing elaborate questions about an off-hand comment on Kill Bill—or, should he appear to have too much free time, requests for him to come and visit her.
"I know enough not to tell Mom that I'm seeing a girl until it's serious," Widmar said. "Now, she's going to know exactly who I hang out with, where I go, and what I spend my time doing on a daily basis. I am so in hell right now."
"God, my links alone contain unlimited fodder for Mom's neuroses," Widmar said. "She'll have access to not only my life, but the lives of all my friends who have web sites. She'll have the names of all the places in Minneapolis where we hang out, which she can—and will—look up. With the raw materials in my blog, she could actually construct an accurate picture of who I am. This is fucking serious."
"To think that I was happy that Mom was e-mailing instead of calling ever since [Widmar's sister] Karen got her online last year," he added. "I didn't see the danger."
According to Widmar, there's "no fucking chance" that Lillian will simply give the site a cursory look and never return.
"Mom loves hearing every boring detail of her kids' lives," he said. "She'd want to know what I'm eating for dinner every night, if she could. This blog is like porn for her."
"Come to think of it, why do I sometimes write about what I ate for dinner?" Widmar asked.
Seeing his blog through his mother's eyes, Widmar said he knows there's no way the site can remain unchanged.
"I know Mom will instantly become the site's most avid reader and most vocal fan," Widmar said. "As I write it, I'll think, 'How would Mom feel about this?' Even worse, I'm sure she'll give the address to all our relatives."
All of the tactics Widmar has considered to divert his mother seem unworkable.
"I could take it down for a few weeks, but I know she wouldn't just forget about it," Widmar said. "I could edit the site and send my other readers through a back door, to another blog just for them. But, I mean, that's just ridiculous."
If Widmar starts a blog at a new address, without his full name this time, he said he risks losing "close to 100" regular readers.
As of press time, Widmar had not decided whether to shut PlanetKevin down.
"The clock is ticking," Widmar said. "I've gotta act fast. At this very minute, she might be reading about the time I did Ecstasy last summer. If Mom finds that entry, I can pretty much count on our conversations for the next year being centered on the dangers of drug use."