THORNTON, CO—According to her husband and two children, Jeanette Westphal, 41, is hogging the regular therapy sessions supposedly intended to help all of them.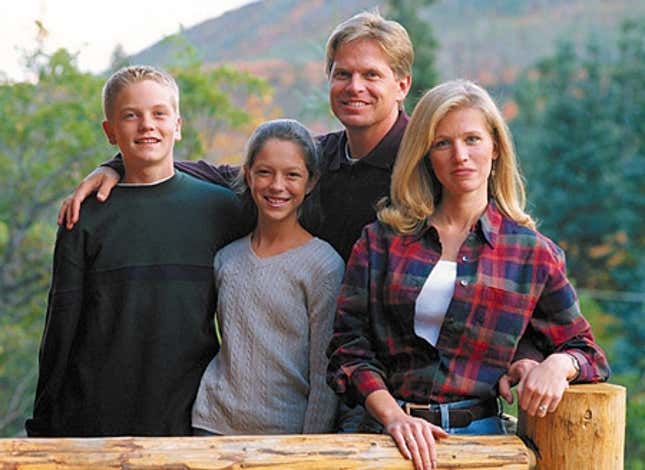 "Mom made us go to stupid therapy, because she said we had to learn to communicate as a family," 12-year-old daughter Amy said of the sessions the family has been attending since March. "Now, every Tuesday from 6 to 7 p.m., we sit in a circle and listen to Mom talk. It's driving everyone crazy, but try telling her that. She won't hear you, because she's too busy going on about her boring 'needs.' Hello, there are other people in therapy here."
Westphal's husband Greg said he can't get a word in edgewise, either.
"We never would've gone to see Dr. [Whitney] Eversen if Jeanette hadn't nagged me about how we need to talk through our problems," Greg said. "As I see it, our biggest problem is that she won't shut up about her feelings and let somebody else have a turn. She acts like it's her own private radio show."
Although Westphal usually mediates conflicts between family members, and is described as the individual who most frequently calls for calm and quiet in the home, she exhibits a different side of herself in therapy. Thomas, 16, said that, once his mother is the center of attention, "she becomes a total drama queen."
"It's pretty scary, man," Thomas said. "Who knew Mom could freak out so bad? None of us, that's for sure. We were all, like, where is this coming from? I don't even remember any St. Patrick's Day cookies. I never knew she was such a glutton for attention."
Thomas added: "Thanks to family therapy, we've learned a lot about Mom's thoughts and feelings. She's a total psycho."
Family members report that, in the past several sessions, Westphal has complained that Thomas always sides with Greg, expressed her resentment over the amount of housework she does, and repeatedly returned to the fact that, in 17 years of marriage, Greg has never purchased her a gift without first asking her what she would like, in spite of the fact that she has repeatedly told him that she loves surprises and would never be disappointed with anything he bought, as long as it came from the heart.
"It's like, 'Hey, Mom, give it a rest, okay?'" Thomas said. "Not that you could ever say that in a session. She'd just start flipping out about how nobody listens to her and how she's invisible and stuff. Or how some saleslady at Sears looked right through her as if she didn't exist. Next thing you know, the session's over."
Eversen said reining the attention-starved mother and wife in has been challenging.
"During the very first session, I always inform the family members that there are no right or wrong things to say in therapy," Eversen said, pausing to take two Advil tablets with a glass of water. "That really opened the floodgates for Jeanette. Now, she feels she can say anything she wants, at any length she wants. I've stressed the importance of listening, but I think she's taken that to mean that the others should listen to her."
"Clearly, this woman has major issues that she needs to express, but she's not listened to in other settings," Eversen added. "The session is her one moment in the sun each week."
Eversen said that, in the last session, he attempted to moderate equal time for each family member by having everyone use hand puppets as communication tools.
"Somehow, Jeanette got all four puppets and, using a different voice for each one, launched into an epic diatribe about how she is forced to be wife, mother, maid, and… well, I forget the last one," Eversen said. "I had to finally interrupt her and politely remind her that we were trying to do a group exercise."
After the "puppet incident," Eversen said he pulled Westphal aside and recommended that she come in for individual sessions.
"She was resistant," Eversen said. "She said the whole point of the therapy was to work out family issues, together, as a family. I'm not sure what to do. Frankly, I'm afraid this may be beyond my training."
In spite of the obstacles, the family has no immediate plans to discontinue therapy.
"For 20 years, my wife has walked through life with a smile on her face, calmly and generously giving of herself whenever she's needed," Greg said. "Now, we're expected to listen to everything from the darkest recesses of her subconscious all at once?"
"What about my needs?" Greg added. "I have been waiting 12 sessions to discuss my self-esteem concerns over my receding hairline. By the time I get around to expressing that to my kids, Thomas is going to be going bald himself."