LEXINGTON, MA—Impatiently scanning store shelves while tersely repeating requests for an inventory of clothing and other items that would be taken along, local mother Susan Vernon, 51, channeled her escalating fears regarding her daughter leaving for college later this month into a fight about storage bins, sources reported Saturday.
The argument, which first flared up 10 minutes earlier in the lamps and lighting section of a local Target retail location before beginning in earnest in the home storage containers and organizers aisle, reportedly served as a convenient proxy for the elder Vernon's growing anxieties about her daughter, Molly, 18, leaving home in just two short weeks to attend the University of Vermont.
"Molly, we need to figure this out right now," said a visibly agitated Vernon, who, unable to reconcile the memory of holding her beautiful newborn daughter in her arms for the first time with the fact that Molly would soon be moving more than 200 miles away, instead brandished a Room Essentials 41-quart storage bin at her child. "Did you even bother to find out how much space you'll have in your closets at the dorm? Should we get these ones, or the bigger size?"
"Look, I'm not going to be there to do everything for you," Vernon added while still waving around the $7.99 plastic container, coming as close as she would to revealing her deep, unbearable sadness over soon being separated, both emotionally and physically, from the person she loved most in the world.
Overwhelmed by recollections of watching her daughter learn to back-dive off a floating dock during a summer trip to the Berkshires 11 years prior and her immense pride at having witnessed Molly play the role of Dorothy in a seventh-grade production of The Wizard Of Oz, sources said Vernon subconsciously prevented herself from bursting into tears by harshly chastising the rising freshman for initially selecting colored bins, insisting that Molly get clear bins so she could find what she was looking for without opening everything up and making a mess.
G/O Media may get a commission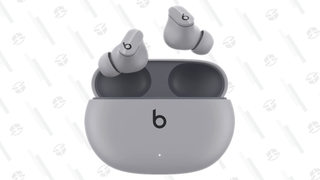 "Do these have locks? Shouldn't they have locks?" Vernon said while inspecting a bin's closure mechanism, her voice becoming clipped and severe as a result of her panic over soon not being able to fulfill her duty of protecting and consoling her beloved daughter during times of emotional distress.
Vernon was then said to have escalated the argument into a bitter nine-minute-long back-and-forth over the relative durability and affordability of the available storage options, creating a more psychologically tolerable conduit for the unmanageable thoughts of her soon-to-be-diminished role in her daughter's life, wherein Vernon—currently Molly's closest confidant—would be relegated to fielding the occasional phone call or text message.
"We're only making this trip once, so if you want to just get a bunch of cheap garbage that's going to fall apart in six months, that's up to you," Vernon said in an effort to quell a hopelessness and despair she had never before experienced as she was struck by a deluge of memories of her daughter coming to her in tears due to skinned knees, nightmares, and the mean behavior of her peers, all of which Vernon had lovingly tended to. "Just don't come crying to me."
After Molly made the argument for a set of more tasteful wicker-and-cloth bins that she contended could potentially serve her beyond college when she got her first apartment—a concept so terrifying to Vernon that she was momentarily rendered incapable of rational thought—Vernon reportedly reached out to her daughter, looking as though she might embrace Molly and tell her how much she loved her, but instead grabbed the bins from her daughter's hands and slammed them back onto the shelf.
"I can't even deal with you right now," Vernon said as she struggled to somehow preserve those last few precious moments with her daughter before their relationship changed forever. "At the rate we're going, we won't even get to the bedding aisle before the store closes."
At press time, sources reported that Molly was channeling her overpowering fears about soon being on her own and without her mother's unwavering support into petulantly sulking in the electronics section.