GALESBURG, IL—After discussing the merits of both events at length, Julie and Ian Bowman, 7 and 5, agreed that their mother Ariel Binder's wedding in Galesburg Saturday was "way more fun" than their father Marcus' wedding in Peoria last March, the children reported Monday.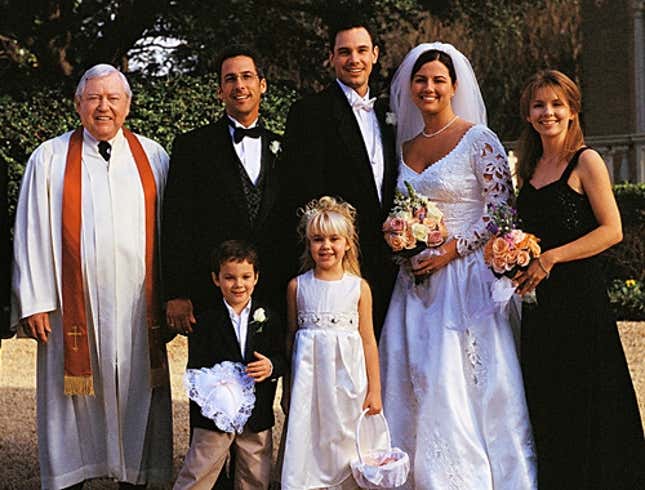 Study Finds LSD Highly Effective At Ruining Nephew's Baptism
"Mommy's wedding had little ham-and-cheese sandwiches," said Julie, indicating the sandwiches' size with her hand. "I ate five of them and got super stuffed, but then Aunt Jean got me some 7-Up, and I felt better."
By contrast, Julie said caterers at her father Marcus' wedding served spaghetti with beef and mushrooms, which she refused to eat.
"I hate mushrooms!" Julie said. "Daddy's wife Jackie tried to help me pick out the mushrooms, but she didn't get them all. It was gross. I ate the cake, though. That was good. But Mommy's cake was bigger. It had three cakes, all connected, and a waterfall."
"Daddy's wedding was fun, too," said Julie, who sees her father on weekends in accordance with the divorce agreement. "But we had to leave early because we were staying with Grandma Ruth. At Mommy's wedding, we got to stay with Aunt Jean until really late."
"We got home at 11:30!" Ian said.
In addition to preferring the dinner at their mother's wedding, Julie and Ian said their mother's dance was better than their father's, which took place in a Peoria hotel.
"At Mommy's party, the [DJ] played 'Boot Scootin' Boogie' twice," Julie said. "That guy was so much cooler than Daddy's band. I asked them to play 'Yellow Submarine,' but they said no."
"At Daddy's wedding, Ian and me danced for a little while, but then we all went and swinged on the swings," Julie said. "That was okay. But John—that's Jackie's son—bet me he could swing higher than me, and he won. But John's better than [Bowman's eldest stepdaughters] Amber and Vivien. They're super-mean."
Ian also preferred the kids at his mother's wedding to those at his father's.
"Ryan [Binder]'s son Tyler likes soccer," Ian said. "He let me play with him. He kicked the ball and it went really high. We both ran after it and I got there first. It was fun."
Despite conflicting reports from their biological children, both Bowman and Ariel Binder described their new spouses favorably. Bowman described his new wife Jackie, with whom he had the affair that ended his first marriage in December 2000, as "intellectually challenging." Binder described her new husband as "more confident than Marcus."
In the turn of events the children liked best of all, Binder presented Ian and Julie with new Huffy bicycles on the wedding day. The children occupied themselves with the bikes in the hours between the wedding and the reception, which took place in a city park.
"Daddy's wife got us dumb stuff to wear for the wedding," said Ian, scrunching up his nose. "I hated it, but Daddy said I had to wear it, because I was the ring bear [sic]."
Although neither of the children participated in the grand march for their mother's wedding, Ian fondly recalled the ring bearer at the proceedings: a wire-haired fox terrier named Skipper.
"Skipper is Ryan's dog," Julie said. "They made a belt to put around his belly, and they put the box with the rings on that. When the minister asked for the rings, Skipper ran up the aisle and everybody laughed."
The Binders have a honeymoon vacation in Bermuda planned, and have promised to bring back a giant bag of seashells. During their honeymoon in France, Bowman and his new wife mailed the children some kind of stupid flag.