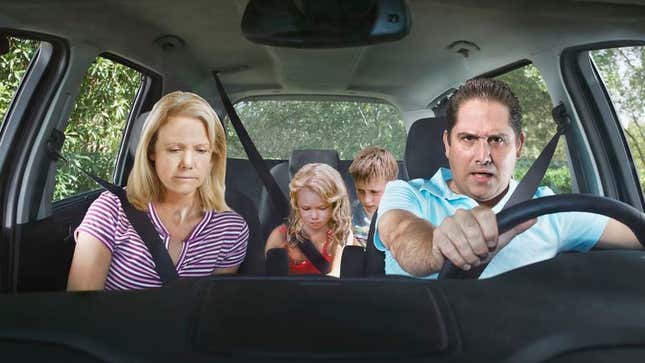 LYNNVILLE, IN—The atmosphere inside the Lowery family car became gravely serious Saturday morning immediately after father and driver Chris Lowery, 44, missed the highway exit he was supposed to take, backseat sources confirmed.
This Week's Most Viral News: September 22, 2023
"Well, we missed the exit," Lowery said in a terse tone of voice that, within seconds, reportedly reversed the genial mood that had characterized the trip up until that moment, and cast a dire pall felt by everyone in the automobile. "We missed the goddamn exit."
"Christ," he added, gripping the steering wheel tighter and sitting forward in his seat.
Sources indicated that the realization immediately halted all conversation and prompted Lowery to curtly switch the radio off, which left behind a tense silence punctuated only by the erratic palpitation of the car's wheels as they rolled across irregularities in the pavement.
Noises that had previously been ignored—including a faint rattling in the car's frame and a high-pitched whine from what was probably the engine—reportedly seemed to grow acutely audible as the family sat wordlessly in their seats.
"I told you to watch out for it," Lowery said after some time, addressing his wife. "Karen, didn't I tell you to watch out for the exit?"
After her husband tersely dismissed her suggestion that perhaps he should have been paying more attention to the road, the atmosphere in the car became even more grim, witnesses reported, and Karen Lowery stopped talking altogether and began looking down at her phone.
As the minutes and miles passed and no viable turnaround point emerged, sources noted that Lowery began to angrily mention aspects of the car that never seemed to bother him before, but had now evidently become significant nuisances. After grumbling that it was "too damn hot in here," the 44-year-old father is said to have jabbed violently at the temperature controls and flipped various air vents away from himself before settling back into his seat, continuing in silence for a minute or so, and then, seemingly out of nowhere, banging the steering wheel in frustration.
"Goddammit," whispered the man who a short time earlier been joking around with his children and wife but who now seemed positively ready to snap at any moment. "Goddammit."
Gathering that the family's game of "I spy" had been suspended indefinitely due to their father's darkened mood, Max and Julie Lowery, 8 and 10 respectively, took to staring out their windows, jaws clenched, their focus on the roadside landscape that the errant car was now barreling past 5 to 7 miles per hour faster than before.
According to those familiar with the situation, the children attempted to remain as still as possible after a small noise one of them made while squirming around in the backseat caused their father to whip his head around, his expression conveying how bleak the state of affairs had become.
"Don't do that when I'm driving," he barked in a tone that contrasted starkly with the voice he had used moments prior to ask the children which part of the trip to visit their grandmother in Huntingburg they were most excited about. "Use your common sense."
Though the time lost due to the missed exit was estimated to be no more than 15 minutes, Lowery nevertheless insisted that their schedule was now "all thrown off," and went on to list various segments of the trip—including the park, the Huntingburg Museum, and even lunch with Grandma—that would now have to be eliminated due to the error. Sources even claimed that Lowery asserted the family "might as well just go home."
At press time, Lowery had reportedly let out a long, quavering sigh as the car returned to its originally intended route.