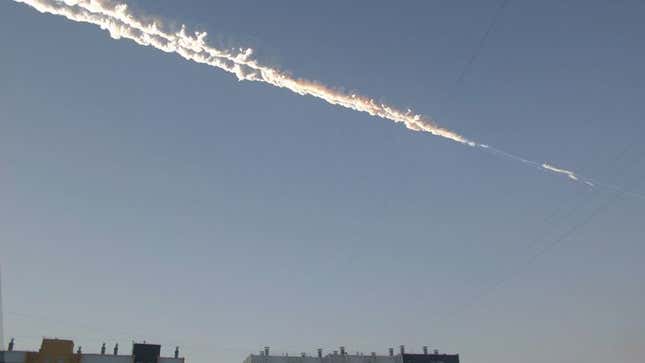 CHELYABINSK, RUSSIA—Following the unexpected arrival of a 10-ton meteor that reportedly broke up above the Russian city of Chelyabinsk early Friday morning, more than 1,000 people have been seriously injured in what sources confirmed was the most awesome fucking thing ever.
Edgelords Explain Why They Love Elon Musk
The absolutely badass meteor explosion, which authorities claimed left hundreds of Russian men, women, and children in critical condition, sent flaming debris throughout the city's industrial and residential neighborhoods and is reportedly the most amazing shit you will ever see.
"It was horrible, we were all so scared," said local woman Anya Zlobin, 48, who was just one of thousands of people who got to look out her window and see a meteor—a goddamned meteor, sources verified—streaking through the sky at balls-out speed like something out of a freaking movie, for God's sake. "There was a very loud explosion, and then the windows shattered and we were all on the ground. I held my child to my breast and I prayed for it to end."
"I'm so glad it is over," added the woman of the absolutely knock-your-socks-off incredible event that could have gone on forever.
According to local authorities, the totally spectacular meteor explosion—God, just those words are fantastic—may have caused millions of dollars in damage, and also, sources reaffirmed repeatedly, was freaking nuts.
Honest to God, just ridiculous, reports indicated.
Additionally, Russian officials said the meteor explosion reduced to rubble a local zinc factory, numerous homes, and, reportedly, so many other things that can't even be adequately described in this news story, you just have to watch the video, it's amazing.
"Since the meteor hit, hundreds of wounded have been streaming through our doors, many with terrible disfigurements," said Dr. Evgeny Prokhorov, a lucky man who was able to witness the jaw-droppingly cool event in person. "There are more people coming in every minute, and we simply don't have the capacity to treat them all."
At press time, the tragic event is all over YouTube and needs to be seen to be believed, seriously.