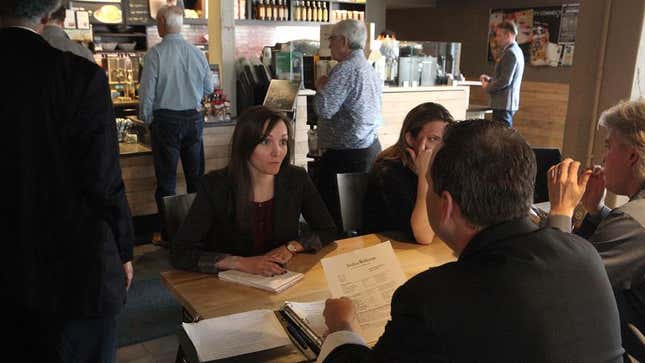 BURLINGTON, VT—Citing the loud screeching sounds of milk being steamed in the background, the overly crowded setting, and the fact that a job applicant's future is being discussed over a tiny Formica table at a national coffee shop chain, sources can now confirm that the most depressing job interview you could possibly imagine is currently being conducted within a local Starbucks.
Americans Describe What It's Like Surviving A Mass Shooting
The breathtakingly sad interview, which many speculate is for an entry-level position at a small nonprofit organization, was made even more depressing when reports indicated that the female job applicant in her early to mid-20s seemed visibly eager to impress her interviewer, a man who conducts his job interviews at a Starbucks.
"Thanks for meeting me here," said the middle-aged man, who went on to explain that the "fulfilling" job pays little money and doesn't include health insurance for at least the first eight months of employment. "It says here you went to Notre Dame. What was that like?"
"Ultimately, we're looking for motivated people who can think fast on their feet and are up to any challenge," the man added while a Josh Groban song played over a storewide speaker and seven people lined up three feet away to use the bathroom.
Following the interviewer's description of the "rewarding work" and "character-building opportunities," sources confirmed that the interviewee, who was the only individual in the establishment wearing professional attire, went on to describe her work experience and career aspirations in front of approximately two dozen café patrons and Starbucks employees.
Reports indicate that the interview reached a new level of despair when a Starbucks patron interrupted the meeting and asked the job applicant if he could take the unused seat next to her back to his table.
"Obviously, I'd be thrilled to be involved with an organization like this," said the interviewee, who had been seen aimlessly milling about the outdoor commercial plaza that houses the coffee shop for approximately 45 minutes prior to the interview. "I'm sure you're seeing a lot of candidates, but I'd like to think I can bring something to the table that you can't get from anyone else."
"I honestly feel that this could be a great chance for me to grow both personally and professionally," added the woman, whose earnestness juxtaposed with the Starbucks employee sweeping around her feet was, sources noted, absolutely heartbreaking.
According to witnesses, while the interview itself was completely and utterly pathetic, the moments leading up to it were equally depressing, with the job applicant having difficulty identifying her interviewer when she first entered the Starbucks and asking another man if he was Jim Oswald. In addition, when the two ultimately found one another, the awkward small talk they engaged in while waiting in line to order coffee was reportedly a tragic spectacle, to say the least.
Other unbearably bleak and humiliating features of the interview included the amount of muffin crumbs that needed to be wiped to the ground before the two sat down and the homeless people within earshot who were talking incoherently about a range of subjects.
Official records also confirmed that job interviews don't break your fucking heart when they are conducted in an office as opposed to what is essentially a fast-food restaurant.
"What are your hobbies?" the interviewer asked as the frequently opened front door blasted the two with another gust of cold air. "People who have varied interests tend to thrive in this environment."
"And professional growth will be necessary, because in a couple of years I plan to aggressively expand what we do," said the man who was sitting under a neon green Starbucks logo.
At press time, the interview participants were shaking hands, with the man saying he had several more interviews to conduct that day—presumptively within the same Starbucks—and that he'd "hopefully be in touch."
Fucking devastating, reports confirmed.