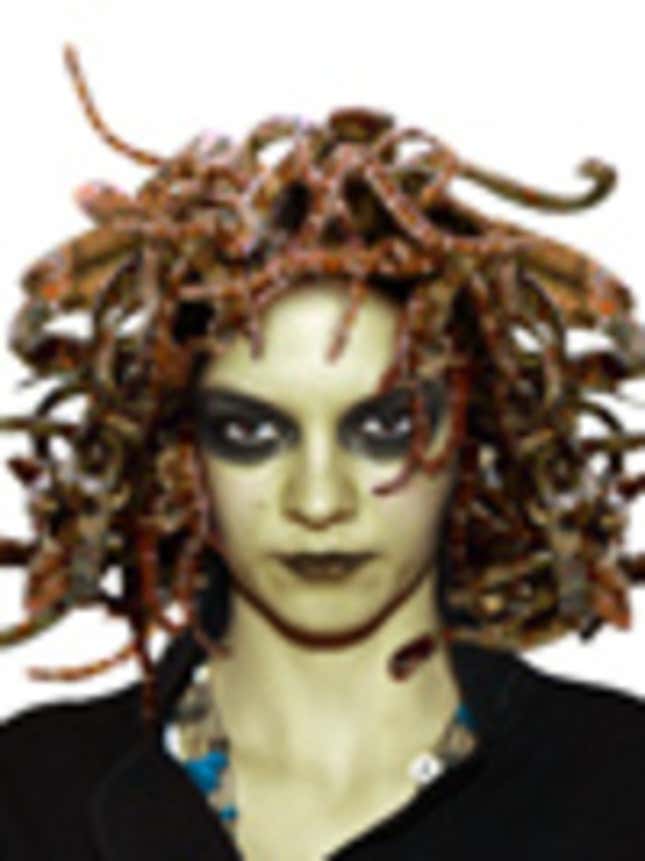 Well, another wasted evening, another potential "Mr. Right" walking out of my life. I guess I should be used to it by now, because it's just so typical: Men will talk all day about how much they value ambition and intelligence in a partner, but when they finally meet a successful, educated gorgon, all of a sudden they head for the hills.
Body Language Fact: Did You Know?
Needless to say, a smart and sophisticated companion isn't what these men are actually looking for. No, what they really want is some easily impressed mortal who'll laugh at all their jokes. Someone who won't challenge their minds or disagree with their opinions. Someone who lacks a visage so terrifying it turns all beholders into solid stone.
I suppose I could giggle, bat my eyes, and absent-mindedly twirl a fanged, hissing serpent around my fingers—but that's not who I am.
Look, I bring a lot to the table. I've got an MBA from Harvard, I run my own company, I have the deadly power to steal the very breath of life from all who gaze upon me, and I'm in great shape. If I were a man, I'd be admired and even envied for these things. But I'm not, and because of that, men find me threatening. When I walk into a room, they turn away in fear, shutting their eyes tight and clambering out of the room in a panic.
These are grown men we're talking about!
As you can imagine, I find dating to be a real drag. Here we are in 2010, and their precious little male egos are still so fragile that they can't stand to sit across a dinner table from an independent, unspeakably horrifying gorgon who makes more money than they do.
When I look in the mirror, I like what I see: full lips, bright red eyes, a lustrous tangle of live asps on my head. My sister Stheno says I "verily personify the terrors of the sea" and would be a "real catch" for any man with half a brain. I don't know, maybe she's right. Still, every time the real me emerges—the confident, cultured, cruel monster with hideous boar-like teeth who knows what she wants and isn't afraid to get it—everything starts to go downhill.
Well, sorry, guys. If you're looking for someone to sit there, shut up, and look pretty, all the while making sure to keep her beastly set of wings politely folded, you must have me confused with someone else.
Take me or leave me. I'm strong, I'm beautiful, I'm not afraid to speak my mind, and Screee-aaaah! Screee-aaaaaaaah!
Am I asking for something so crazy? Couldn't I enjoy a night out on the town with a man who accepts—no, values—the best parts of me? Someone who appreciates my many professional accomplishments and who isn't going to just scream and scream as his body slowly turns to stone and then never call again?
Recently, I signed up for an online dating site, figuring that if I were completely up front about myself, I'd find the right man. But no such luck! You can mention that you have your own Greek isle; you can post a photo revealing your lithe form, wild eyes, and protruding bifurcated tongue; but one mention of being a powerful, self-made professional whose home is littered with the stony husks of men who stood before her, and it's "Whoa, no thanks, brainiac!"
Does every man recoil in horror from a gorgon the moment he discovers she has something halfway intelligent going on inside her head full of snakes?
I'll admit there may be other issues beyond my intimidating intellect. Some guys may think that, because I'm thousands of years old, I want to settle down and start popping out kids right away. But that's not true. I just want what almost everyone wants: companionship with a true equal who won't grow petrified every time I dig my brazen claws into his flesh and rip it from his shattered bones.
Ugh. I'll probably be single forever.