GREENWICH, CT—In a documentary that the Greenwich High School Gazette called "daring and evocative," 17-year-old director Brad Harrison used a plaintive Irish-flute melody to underscore what he described as the "tragic nature of the loss of the senior lounge."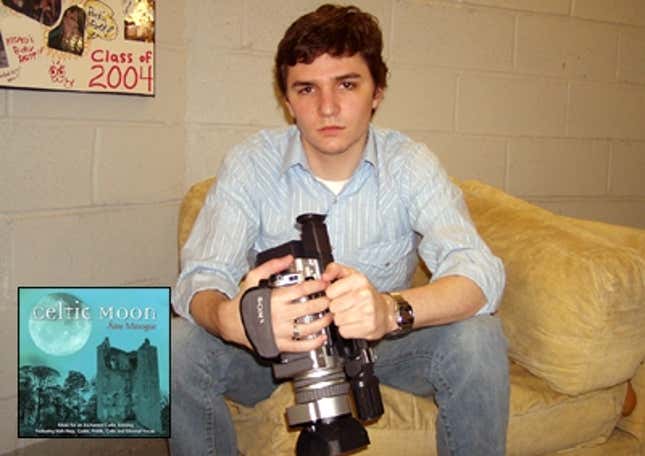 CDC Issues Dire Warning That Nick Cannon Is Feeling Horny
"It wasn't easy to find the right soundtrack for my film," Harrison said as he smoked a cigarette in the school parking lot. "I knew it needed to be profoundly emotional. Luckily, when I was at Best Buy, I heard this CD called Celtic Moon. The third track, 'Dark In Dublin,' totally sucked me in."
Todd Fackler, cinematographer of the 11-minute short, Paradise Lost: The Story Of Room 114, said he approved of the mournful flute music.
"This whole movie was shot with tone in mind," Fackler said. "I spent two hours getting the perfect skateboard-dolly shot of the lounge. I wanted the audience to feel that. When Brad had Elton John's 'Goodbye Yellow Brick Road' in there, it just wasn't doing it."
"But that wooden flute is dead on—it's so monumentally sad," Fackler added. "Everyone's been looking forward to using that lounge for the past three years."
Harrison said he has looked forward to using the lounge for even longer.
"My older brother told me about the lounge when I was in seventh grade," Harrison said. "He told me how each new senior class would decorate it however they wanted, and how you could hang out in there during lunch hour or whenever. That lounge was a tradition."
Through the years, students furnished Room 114 with items brought in from home: a couch, two bean-bag chairs, a television, and a rug. But upon returning for the new school year on Sept. 8, Harrison and his classmates found the furniture replaced by stacks of chairs, desks, and various janitorial supplies.
Students later found out that Principal Richard Ventzian had cruelly repurposed Room 114, filling it with the contents of Room 232, the former furniture-storage room, now the science laboratory. A single upholstered chair is all that remains of the old lounge.
"We didn't even get any say in the matter," Harrison said. "It was so unfair. I couldn't just stand by and watch it happen."
Harrison said he began work on Paradise Lost "immediately." The movie took two weeks to shoot and another four days to edit.
"I didn't do this just for me, or even for my classmates. I did it for future generations of GHS students," Harrison said. "Homecoming week will never be the same without that lounge."
According to the documentary, Ventzian was the one who officially designated the room as a senior lounge in the spring of 1995, when the school district cancelled its drivers-education program.
Reached at his office, Ventzian said students were given use of Room 114 with the caveat that the room could be used as a lounge "only until it was needed for other purposes."
Grainy pans across Room 114's furniture-stacked west wall feature prominently in Paradise Lost. The documentary also includes testimonials from outraged students and an interview with Ventzian. It's all tied together by the dramatic voiceover narration of Dan Phelan, the senior with the deepest voice.
The documentary opens on a black-and-white, slow-motion shot of feet walking down a tiled hallway.
"They say people can survive as long as they have hope and water, or see a light at the end of the tunnel," Phelan narrates. "But what happens when that light is snuffed out?"
Harrison shot several student interviews in his darkened bedroom, with subjects cast in silhouette so that they could speak with impunity.
"They're just mad because we toilet-papered the school and egged Ventzian's car last year," an anonymous student said. "That lounge was ours, man. They can't just take it away from us."
"But I guess they can and did," added the subject, who was identified on the screen as a National Honor Society member. "It's a bunch of bullcrap."
Senior Jennifer Shouse expressed her frustration openly. As student council president, Shouse proposed a resolution to return Room 114 to the seniors. Although the act passed unanimously, it was ignored by GHS staff.
"It's a travesty," Shouse said. "They're infringing on our rights. America is all about freedom, and I used to think that GHS was, too. I guess I was wrong."
The movie ends with a slow-motion shot of Room 114's door closing. The shot is accompanied by the sound of a prison door slamming shut.
After several seconds of blackness, Harrison's cell-phone number appears on screen, alongside a plea for viewers to "get involved." At this point, the Irish-flute music takes the movie through the credits.
Harrison shot his documentary on a Sony Mini-DV camcorder that he received for his 17th birthday. The project received an "A-minus" Tuesday in Harrison's audio-visual art class.