SACRAMENTO, CA—Political observers are struggling to understand exactly how, on Oct. 7, Arnold Schwarzenegger, an Austrian-born, movie-star muscleman with no political experience, was elected to govern the state of California, the world's fifth-largest economic region.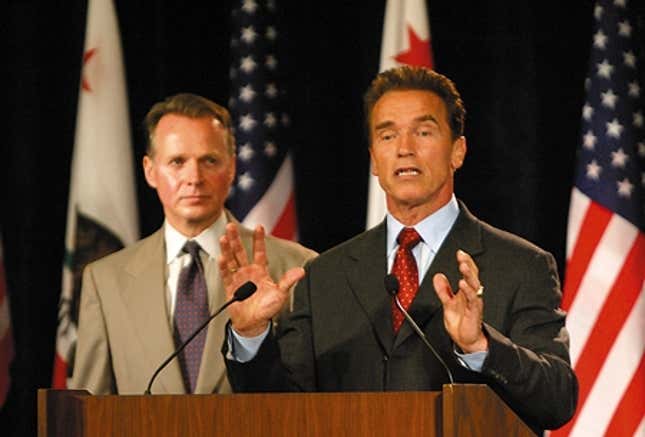 CDC Issues Dire Warning That Nick Cannon Is Feeling Horny
"We're a bit baffled as to exactly how this happened," said David Gergen, director of the Center for Public Leadership at Harvard's Kennedy School of Government. "Poll results show that the strongman received 1.3 million more votes than the next candidate—that much is clear. We just can't determine precisely why people believed that the bodybuilder was qualified to lead the socially and economically complex state of California."
According to the Organization for Economic Cooperation and Development, California is an economic region with an annual gross domestic product of $1.36 trillion—an amount equal to one-sixth of the U.S.'s total gross national product. Considered internationally, California's GDP ranks fifth in the world, behind the U.S., Japan, Germany, and the United Kingdom.
"Apparently, this man has appeared in numerous popular films," Gergen said. "And I guess he was awarded a Mr. Universe title. But I don't understand how that would make him a competent gubernatorial candidate."
"There were, in fact, figures from the pornography industry on the ballot who were better equipped to lead than the muscleman," Gergen added. "A major adult-magazine publisher who could claim not only leadership and business experience, but also a working knowledge of First Amendment law, was in the running. The fact that the pornographer received only 15,454 votes is confusing, in light of the muscleman's victory."
Research conducted by equally confused political analysts failed to produce any evidence to suggest that the bodybuilder has ever held political office. The muscleman has not presided over any unions, boards, or committees, nor has he displayed any public-service ambition of any kind.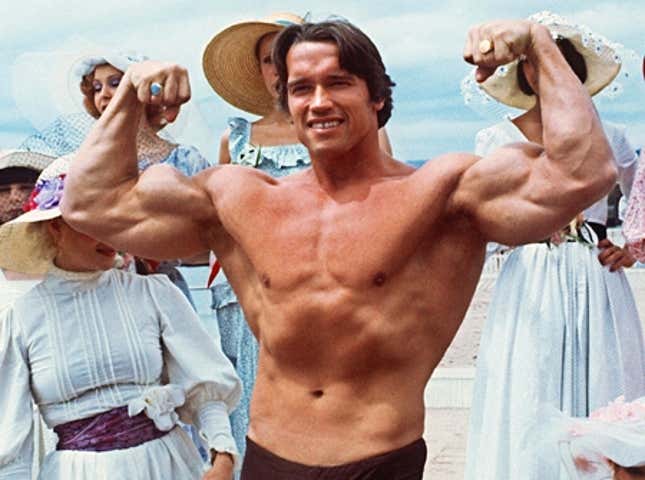 "At one point, the muscleman appeared in a series of public-service announcements for the Presidential Council on Physical Fitness," said political analyst Gloria Speeves, a Hoover Institute fellow and best-selling author. "And he's married to Maria Shriver, a peripheral member of a once-prominent American political family. But, contrary to what election results suggest, these minor contributions to public life do not qualify the weightlifter to lead an entire state."
"I'm not saying I'd choose him to run a small state with a healthy economy, but we're talking about California—a state crippled by an $8 billion deficit," Speeves added.
It was the California citizenry's anxiety over the deficit that led to the recall of Gov. Gray Davis. The state's finances are further complicated by other factors.
"One fifth of America's imports and exports pass through California, and this results in extremely complicated tariff and tax-jurisdiction issues," U.S. Sen. Dianne Feinstein (D-CA) said. "We're a leading, yet internally conflicted, agribusiness powerhouse, with influential landowners constantly vying for political power. We have issues of poverty, crime, housing, and race equality. Not to mention that California is the country's second-largest energy-consuming region and struggles to meet its power needs amid continued debates over deregulation."
"Californians elected a celebrity governor once before, but that man had at least served as president of the Screen Actors Guild," Feinstein said.
The Republican muscleman defeated Lt. Gov. Cruz Bustamante, who will retain his position in the new cabinet. The governor-elect's policies are said to be centrist-conservative, although it's difficult to confirm this, as the beefy actor has offered only a few words regarding his plans for California's future.
"It's all about leadership," said the 257-pound strongman, who reportedly once dead-lifted 750 pounds.