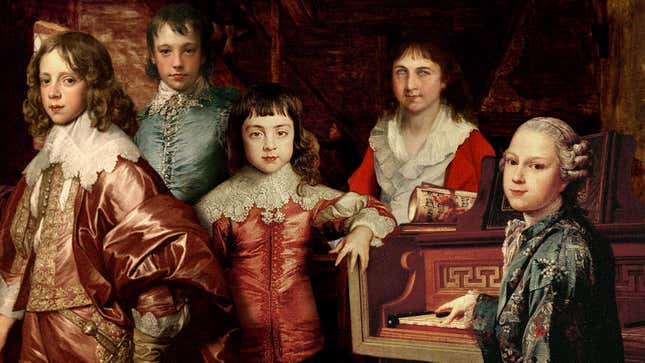 SALZBURG, AUSTRIA—In a discovery certain to renew interest in the beloved composer's legacy, music historians said Monday they have found evidence that before leaving to pursue his solo career, Wolfgang Amadeus Mozart fronted an ultra-popular Viennese boy band.
According to the International Mozarteum Foundation, which came into possession of a recently unearthed collection of journals, personal keepsakes, and a sultry oil painting in which the band appears shirtless, Mozart was once the face of a teen chamber music phenomenon known as Ümlaut. With their signature beribboned hair, fur-lined greatcoats, and frilly, unbuttoned frocks, evidence suggests the group's five members were recognized as sex symbols throughout the Holy Roman Empire of the early 1770s.
"Ecstatic fans would chase Ümlaut's carriage through the streets of Mannheim, Munich, Vienna—anywhere they toured," said classical music scholar Hannah Rigsby, noting that the band played all the biggest imperial courts, dated Central Europe's most eligible countesses, and had their likenesses illustrated for the cover of Jugend Schlag, an 18th-century periodical for teenagers. "Their personalities were known to all: Gustav, the dark and stormy cellist; Hans, the cute violinist; Dietrich, the shy violist; and Ernst, the blind castrato. Then there was Wolfgang, the keyboardist and breakout star."
"From a very young age, Mozart just had that cute, undeniably sexy, yet still approachable demeanor of a frontman with the chops to go solo," Rigsby added.
One contemporary account states that whenever the band played its biggest hit, "Sie sind meine schöne Dame vom Hügel" ("You Are My Beautiful Lady From The Hill"), Mozart would perform a "most jaunty" harpsichord cadenza during which women in the audience, "including many of noble birth," would faint or peel off their knee-length silken chemises to throw at him.
Ümlaut was at the peak of its fame when Mozart reportedly began to chafe against the restrictions of his father, Leopold, who controlled the band's affairs and only allowed the teen boys to play banal minuets and gavottes composed by Swedish émigré Maximilian Mårtensson, a prolific hitmaker of the era. The wunderkind wanted to perform his own material, and drafts of his scores show that in 1774, he struck out on his own, composing his first solo piano sonata.
"It wasn't easy for Mozart to make it as a solo act, in part because so many die-hard Ümlaut fans were furious with him for leaving the band," said Rigsby, noting that while Ümlaut tried to carry on without its star, the magic was apparently gone, and the group was supplanted by the rival boy bands flooding the Vienna scene by the mid-1770s, including Haydn's Vier Klaviere and Antonio Salieri's Sex für dich. "But Mozart's fortunes changed when he cut ties with Leopold and teamed up with Emperor Joseph II, who installed the composer at court, dressing him in a suggestive crimson pelisse and gold-laced cocked hat. Mozart soon had a solo breakout hit with Don Giovanni, and the rest is history."
"The transition from cute but innocent child prodigy to luscious full-grown heartthrob was complete," Rigsby added.
While Ümlaut's boy genius thrived, his older bandmates appear to have struggled in adulthood. Records indicate that within a decade of the band's split, Dietrich was confined to debtors' prison, Hans developed an 80-drops-a-day laudanum habit, Gustav died of bloodletting in an Augsburg lunatic asylum, and Ernst was executed for public indecency.
Perhaps taking pity on his old friends, Mozart agreed to reunite with the band's surviving members in 1791, by which point the former teen sensations were all well into their 30s. Documents from the time confirm that performances of their English-language opera Rock Your Body (Ümlaut's Back) were poorly attended, leading the members to again go their separate ways.
"The ill-fated reunion was perhaps the greatest misstep of Mozart's professional life," said Matthias Gruber, a researcher at the International Mozarteum Foundation. "The failure hit him hard, and later that same year, at the age of 35, he took ill and died."
"Mozart gave us many incomparable masterpieces," Gruber continued, "Sadly, this great virtuoso passed away before completing what many believe would have been his greatest achievement yet: a long-planned transition into an acting career."