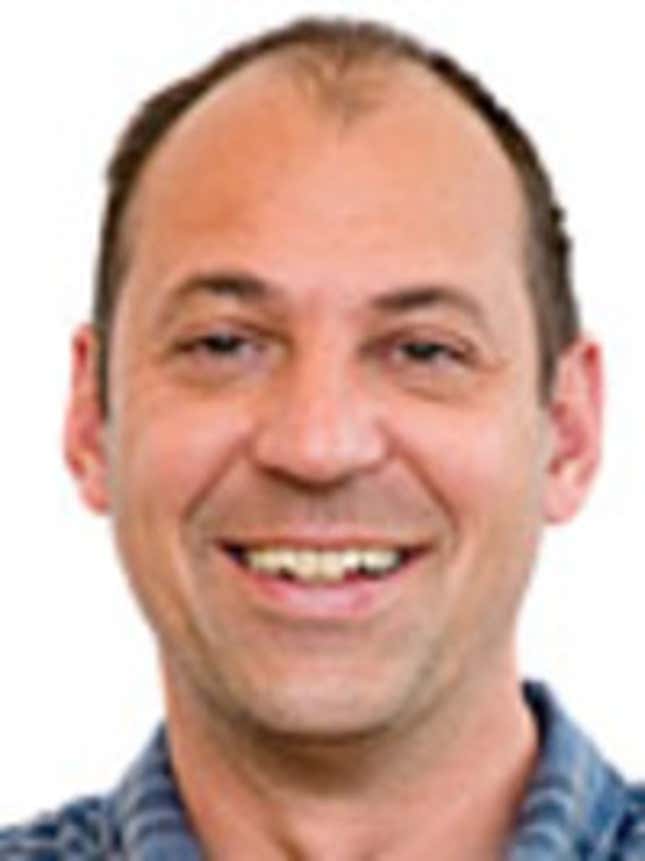 After 23 years of marriage, you'd think there would be nothing in the world my morbidly obese wife could do to surprise me anymore. You'd say, "Howard, I bet you know just about everything there is to know about that massive woman of yours." But I guess I still have a lot to learn, because yesterday morning my wife, who is quite fat, turns her head to me and says, "They should do a game show hosted by that father from Growing Pains."
Just like that!
I just laughed and thought to myself, "That's my 450-pound wife for you—always full of surprises!" It's times like these, when she catches me off guard with an insightful comment, that I remember why I married her in the first place. My Kate is truly one of the sweetest, fattest, smartest people I know. She's not only my enormous wife—she's my enormous best friend.
And she's funny, too! Whenever we have guests over at the house, watch out, because my unhealthily overweight wife keeps everyone on their toes with her trademark wit! Like three years ago on my birthday, she gave me this card that had an old man on the front with only four teeth in his mouth, and on the inside it said "Happy Four-Teeth-ith Birthday!" Kate was already giggling before I walked over to her couch-bed to grab the card from between her pudgy, bloated sausage-fingers, so of course I knew something was up. Sure enough, another Kate classic! Boy, my dirigible-sized wife sure knows how to make me laugh.
It's so important to marry someone you can talk to. Over the course of any relationship, you go through lots of ups and downs. On the good days, you're traveling around and going to dinner parties and everyone's still able to fit through standard doorways, but other days are harder, and you've got to be able to cheer each other up when things get tough and you can no longer share a bed in any real sense of the term. But no matter how bad things get, I can always rely on good old immobile-flesh-mound Kate to make me smile.
God, I'm so lucky to have such a fat interesting fat wife.
She really is one of a kind, my Kate. Whenever I see her reading books on treating the various skin disorders that result from chronic obesity or just drowning in her own sweat, I can tell the wheels in her head are spinning. She never stops thinking! Every day, she's thinking and thinking and eating and widening…growing. It's like every part of her is bigger than the next. She's not even a woman anymore, she's just this—this thing I inject insulin into while it consumes stacks of honey-glazed ham like a thresher and says the most adorable things when it isn't wheezing or choking on its own spit and bile.
I love my wife!
Just yesterday we were watching the news and John McCain started talking about how Barack Obama wants to make gas unaffordable for middle-class Americans, and then my wife kind of swayed her arms back and forth to work up the momentum to shift her body in my direction, and as the bulk of what was once her left breast toppled down her expansive upper belly and under her right arm, she said, "Gas is already unaffordable for most middle-class Americans." And wouldn't you know it, as soon as it was his turn to speak, I'll be damned if Obama didn't say almost the same thing!
I swear, if she'd been upright and wasn't being strangled by her own neck flab, I could have kissed her.
I don't mean to go on and on bragging about my amazing wife who's killing herself with food, so I'll just tell you one more vintage Kate story. It's a doozy. See, back in college, my then-not- unspeakably-obese wife lived in a sorority house that used to throw these wild parties. And one time, Kate had a few too many and—well, there was this bra hanging from a ceiling fan and—or was it the staircase? Darn it, she was just telling me yesterday in the kitchen. We were talking about her old sorority and college, and she was telling me about this Halloween party they threw and I realized the skin folds of her underarms were no longer symmetrical and then she said….
Oh, you know what, I just don't tell it as well as my heaving sack of a wife does.