I called up Alexa at Bergdorf's Sunday night and told her I needed gloves, a hat, an evening dress, two coats,12 sweaters, a couple hair accessories, a slouchy belt, and some stockings, because I threw my old ones out by accident. I needed a new watch, too—something modern and new but traditional and in platinum—but I just called up Enrico for that, because he knows my hands.
Well, Monday morning rolled around, and then it was Monday afternoon, and I still didn't have my purchases. When Alexa finally showed up, I understood why she'd taken so long—she had clearly gone out of her way to hand pick the most hideous pieces from the most hideous collections, carefully ensuring, while she was at it, that several of the items were not even in my size. (I'm a Versace 6, a Marc Jacobs 4.)
I don't understand what was going through her head when she chose that J. Mendel evening dress. Basic black? I'm not trying to buy an evening dress that I'll be able to wear for years to come, thank you.
I may as well have a colorblind Mongoloid doing the job for me. And her voice. That awful, mousy little mumbled falsetto. "Enunciate!" I said. "It's no wonder you're living in a fifth-floor walkup."
And La Perla bras? Completely off the mark. I told her I wanted sexy, not a bra for my grandmother. If that's her idea of sensuous lingerie, it's no wonder she can't keep a man committed to her.
G/O Media may get a commission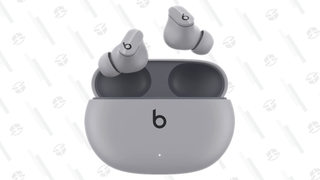 I try to be forgiving to the poor girl, because I know that it must be hard to be so unattractive, but some of these items go beyond the pale. The Be & D handbag looked like something an insane person would carry. And when I asked her to pick up my dry cleaning, she acted like I was the one out of line. Two words. Service. Industry. Thank you.
I could perhaps have humored her if she came back with two or three gaudy cashmere sweaters. Taste is, after all, subjective. That she brought me 12, however, is more than I should have to endure. I took the sweaters to spare myself the hassle, but Lord knows they're going to be sitting in the back of my closet unworn ten years from now.
I should have gone with that homosexual with the harelip, Chi-Chi.
I could fire her, but then I would have to go through this incredible bore every afternoon when I go to Bergdorf's. Besides, it's more than I can do right now. I'm up to my ears in planning next season's winter formal. This is a disaster.
Maybe I can just hand the Be & D to a homeless person. They might be thrilled. Wait, Janice Goldman's daughter adores Be & D. I'll give Janice the bag next time I see her in the park, pretend this never happened, and just pray that Marie Elaine has fared better.