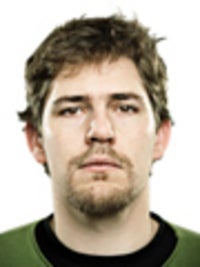 Ah, yes. The time is at hand. No more shall the countless humiliations you have heaped upon me go unanswered. At last, the moment of reckoning. A forced, sloppy, blink-and-you'll-miss-it reckoning.
You shall rue the day you met me, my friend. If indeed you even remember who I am.
Secretly, silently, have I contemplated my revenge. Oh, how I've dreamed vaguely of this moment, waking with just a hazy recollection of standing triumphant over you while you pleaded helplessly for something or other. Most likely mercy. But when the real time comes, I shall grant no mercy, just as you are unlikely to ask for any, because you're probably not going to know, or care, what hit you.
I have been laying the groundwork of my plan for the better part of this morning! There are many holes in it, but it culminates in the utterance of a cruel, pretty obscure nickname that only I and one other person I met on the Internet know. Numerous details still need to be worked out, but rest assured, when the time is not quite right, I will act hesitantly and ineffectively, making you look the fool in theory, but not in practice, in front of up to three people, including me.
I cannot wait to see the look of borderline indifference in your eyes, if you're facing me at the time! The expression of slight confusion that will wash over you as my plan unfolds and then swiftly fizzles out.
Oh, how completely unsatisfactory it's going to be. Just you wait, my friend. Just you wait and see.
Afterward, I will likely return to my inner sanctum, replaying the moment over and over in my head, kicking myself for jumping the gun and wishing I hadn't been too cheap to spring for a more elaborate comeuppance.
Realistically speaking, I probably shouldn't be writing these words, as they are making my plan itself public knowledge. After all, the less you comprehend of my botched, hasty attempt at vengeance, the more it will take you by mild surprise. That said, I so look forward to it. Just know that I fully planned to contact the cheerleader you had a crush on in high school and invite her to share in your downfall, but I kind of ran out of time and never got around to finding out which one she was, or where you went to high school, or important stuff like that.
My God, I can feel the sobering rush of disappointment rising within me already!
Yes, my friend, the sense of anticipation is delicious, yet not so enticing that I won't under-think my plot so it has no chance of working. Case in point: I forgot to purchase the bungee cord that is needed for the launching mechanism, so I've improvised with a handful of cracked old rubber bands that I scraped together around the office, all but guaranteeing a spectacular failure. Ah, what shallow depths of cunning my feeble mind has plumbed.
When I exact my tepid revenge—if you can call it that—you will know a brief moment of bewilderment before carrying on with the rest of your day and, indeed, your life. And I will be filled with shame and regret, too defeated ever to try to best you again.
It's like the old saying goes: "Revenge is a dish best served as soon as the urge strikes." And so I shall. Probably.
Now, where did I put that pie?