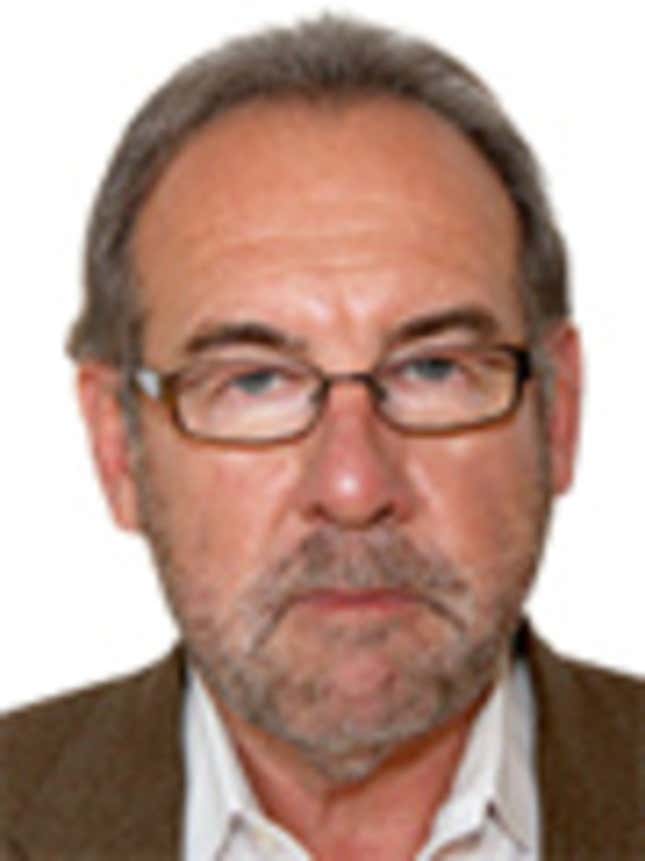 Our company started manufacturing and reconditioning toner cartridges back in 1993, and 15 years later, Wernicke is the name you can trust when it comes to toner cartridges. But with changes in technology and higher production costs, these last few years have been tough. So after a great deal of deliberation, I've decided what this company needs is a fresh face, a new approach, and someone who is directly related to me—my son, Adam, our new chief operating officer.
Study Finds LSD Highly Effective At Ruining Nephew's Baptism
Obviously, we looked at a large number of applicants for this job, and it was a hard decision to make. But Adam brings a lot to the table: He's young, he's eager, and he was the only candidate under consideration who passed through my wife's birth canal.
Those of you who are not related to me will be reporting directly to him.
You remember Adam. I used to bring him with me during the summer, and he'd run around, stealing office supplies and listening in on people's phone calls. Well, he's all grown up now, and he's not really up to anything at the moment. In short, he's just the man for the job.
Some people around here will no doubt grumble. They'll say that the position should go to Jerry Arbrecht, who has, admittedly, been with the company since the beginning. They'll say Jerry has the sort of nuts-and-bolts experience we need to weather the storm. Well, I didn't get to be No. 1 in third-party toner cartridge manufacturing and importing by following the pack mentality, and I say we bring in someone who is carrying my DNA and doesn't know the first thing about the business.
Yes, it's been a rough year. This country is in an economic downturn, and that means fewer toner cartridges being sold. On top of that, we're still smarting from losing Paul Parduhn—one of the top cartridge men in the industry—to the competition after his 10 solid years with us. But we're at a crossroads now. And the situation calls for spontaneity, openness to new viewpoints, and a person with whom I share 50 percent of my genetic makeup.
At a time when growth is stagnant, Adam is just the kind of having-the-last-name-Wernicke-type person this company needs to reclaim its luster. I first noticed Adam's leadership qualities when he rose to the top of the Cub Scout troop where I was scoutmaster. He came in a close second at the River Valley High School talent competition. He went on to graduate with a strong passing GPA from an Ivy League college that I got him into, and he's got the fresh ideas that will make the employees of Wernicke Toners sit up and take notice as they start to question everything they worked so hard for all their lives.
We were lucky that this visionary new addition to our staff happened to be available and right nearby, since he's currently living in his old room, having recently returned from two months of gaining valuable international experience for this company by bumming around Europe.
This position requires someone who has a lot of potential for growth, and Adam has demonstrated just that quality by growing up, under my roof, for over 20 years. I've had several serious conversations with Adam about what he wants out of life, and I can tell you that he's been chomping at the bit to be installed sight unseen at the top of a business that employs 175 people and is owned by his father.
What do we need right now? Some sort of business-school-educated bookworm who knows nothing but numbers, or my son, who has great ideas and is my son?
Yes, arbitrarily placing him in charge is a bold move on my part. But we don't have time to waste working him up from the bottom, familiarizing him with the company or even with the business world in general. We don't need someone related to me in six months—we need someone related to me right now. A young man who can roll up his sleeves and put his nose to the grindstone, as Adam will do just as soon as I drag him in here, sit him at a desk, and make him start drawing a six-figure salary, by God.
He's thoroughly experienced in the court-mandated volunteer sector. He's shown a lot of promise in the lawn-mowing arena for the past 16 years. And most importantly, I am completely confident in his ability to remain related to me no matter what.
I promise you, give Adam your full support and you won't be disappointed in him, unlike my cousin Chuck, who ran off with $500,000 in your pensions last year.