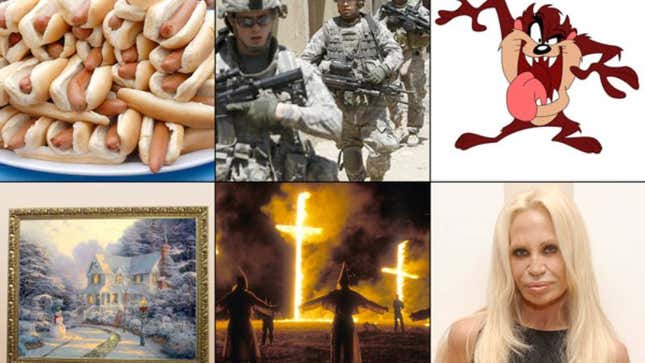 WASHINGTON—An international panel of leading anthropologists, cultural critics, biologists, and social theorists announced this week that Western civilization will reach its lowest conceivable point at 3:32 p.m. Friday.
This Week's Most Viral News: September 29, 2023
"From the prehistoric Lascaux cave paintings to the stirring symphonies of Mozart to today's hot-dog eating competitions and action films with comical gerbils, culture has descended into a festering pool of mass ignorance," said Yale sociologist Paul Riordan, who has spent his career analyzing western civilization's fall into the depths of depravity. "If our calculations are correct, this complete erosion of all that is enlightened and unique will reach absolute rock bottom on the afternoon of Sept. 25, 2009."
Added Riordan, "It is scientifically impossible for civilization to sink any lower than it will this Friday."
The panel said the upcoming nadir will be precipitated by a string of smaller devastating events.
At 9 p.m. Wednesday the ABC sitcom Modern Family will premiere, marking the least-inspired creative endeavor ever attempted by modern man. This will reportedly be followed at 12:52 p.m. Thursday by the release of a new energy drink marketed exclusively to U.S. troops stationed in Iraq and Afghanistan.
Experts predict that the penultimate catastrophe will occur at approximately 7:15 p.m. Thursday night, when the social networking tool Twitter will be used to communicate a series of ideas so banal they will instantaneously negate the three centuries of the Renaissance.
"The sciences, the arts, the humanities—all aspects of society as a whole will reach their respective low-points in just a matter of days," said anthropologist Robert Davidson, gesturing toward a nearby line graph illustrating western society's collapse. "We've been charting this cultural descent for generations now, from the advent of New Wave music, to the rise of scientific creationism, right through to the trampling death of several Wal-Mart greeters on the morning after Thanksgiving. Everything has been leading up to this Friday."
According to the panel, the final event will occur at 3:32 p.m., when a tourist, believing the impressive structure to be a giant mall, will enter Chicago's Museum of Contemporary Art, and, not finding what he is looking for, ask where "the damn Radio Shack is supposed to be."
The man, dressed in Crocs and sweatpants and determined by researchers to be the final catalyst in humanity's epic downfall, will then loudly expel gas.
"This horrible but inevitable day has been a long time coming," said Davidson, before picking up a black marker and, seemingly without thought or intent, drawing a long, thick phallus on his chart. "And by the looks of things, it's almost here."
Some analysts believe the coming cultural sinkhole—the most intellectually and spiritually degrading moment conceivable by science or philosophy—will signal the end of mankind's decay and lead to a steady upward climb. Still, they warned, the event itself could be catastrophically lowbrow.
"With each passing minute, we're getting closer to a second Dark Ages," said noted art critic Mark Lefevre, tearing out pages from his report, folding each into a paper airplane, and tossing decades of hard work around the room. "Unless something is done to protect what little sophistication and refinement we have left, Western society may soon regress to a point of no return. We need to act, and act fast."
"Come on," added the two-time MacArthur "genius grant" recipient, before stripping down to his undergarments and brandishing an automatic assault rifle. "Let's get 'er done!"
Despite the panel's findings, many are skeptical that humanity will reach its lowest depths on Friday, claiming the humiliations are likely to continue as ever-smaller terrier breeds begin to outsmart their owners, and disgraced former congressman Tom DeLay appears in the new season of Dancing With The Stars.
Most chillingly, many agreed, is that while Michael Crichton's death has been a positive step, Dan Brown remains very much alive.
"We're talking about a society in which the name Newton is now more often associated with a fig-filled dessert than the scientist who revolutionized modern thought," biologist Howard Thurston said. "The human mind is endlessly inventive, and our species will always find new ways to completely discredit and embarrass itself."
As of press time, boobs.