MOBILE, AL—In terms of time, money, and effort expended, local parent Kelly Sweedlin takes better care of her hair and nails than she does her 2-year-old daughter Porcia, the bank teller reported Tuesday.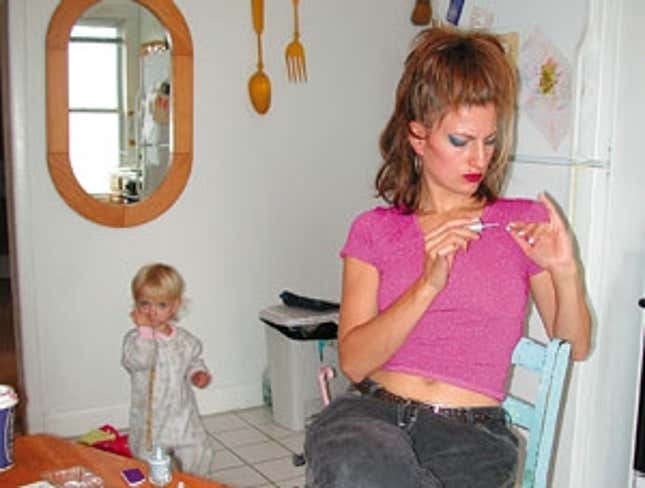 This Week's Most Viral News: September 29, 2023
"As a single mom, it's sometimes hard to squeeze in my manicures between work and everything else, but I make it a priority," Sweedlin, 26, told her daughter's daycare provider. "If I don't spend the time to really take care of them, who will?"
In spite of all the hard work required to grow a beautiful set of nails, Sweedlin calls it a "labor of love," adding that nothing is more rewarding than a relaxing Saturday afternoon spent "just playing" with different nail-polish colors and discovering new things about the array of beauty products available.
"No matter what my friends say, my nails are not the most important thing in my life," said Sweedlin, as Porcia sat on the floor picking a piece of gum from the bottom of her shoe. "I care about my hair way more. It's just that nails need more pampering if you want them to turn out halfway decent."
To take proper care of her hair, Sweedlin has a regular standing appointment for alternating Tuesdays at the Mane Attraction salon, where stylists spend hours radically changing her hairdo from straight to curly, blonde to brown, and back again.
"I have a special bond with my hairdresser that I don't have with anyone else," Sweedlin said. "If anything happened to her, like if the salon lost her to another place across town, I wouldn't know what to do."
Her most recent hairstyle, a shoulder-length cut, has garnered raves.
"Kelly's hair is soooo darling," said Donna Campbell, owner of Wee Ones Daycare, where Porcia spends up to 35 hours each week. "Thick hair is a gift from God. She must be so proud. I told her to enjoy that style while she can, because before you know it, a relaxed wave like that is all grown out."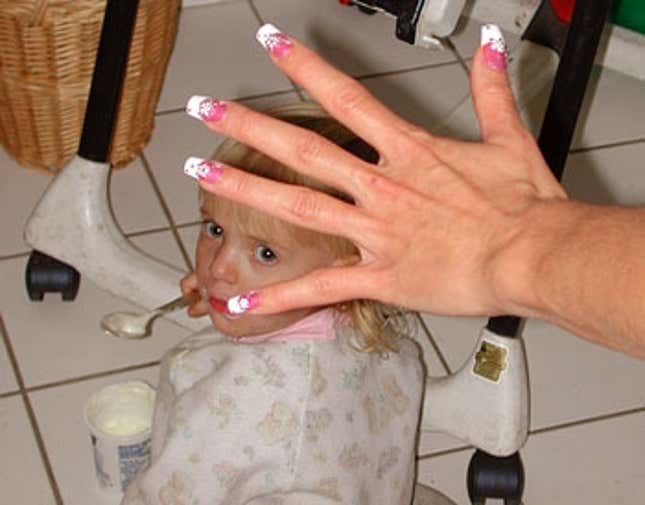 Porcia spends each morning with her grandmother, who drops her off at Wee Ones at 11:30 a.m. The girl remains there until Sweedlin picks her up between 6 and 7 p.m., depending on whether she takes a detour to Walgreens, where a quick stop can take an hour. While Sweedlin often complains that money is too tight for new clothes for Porcia, she does budget funds for the beauty products she needs to look "professional" for work.
Once the two are home, Porcia plays in her room, watches TV, or sits on the floor watching Sweedlin use her array of curling irons, makeup brushes, and hair-styling products, which the girl is repeatedly warned not to touch.
"That spray bottle is Mommy's!" Sweedlin told Porcia. "You can play with the old hair dryer, but don't you dare plug it in, hear?"
Though their apartment lacks Sesame Street or child-rearing magazines, the end tables are covered with copies of Glamour and Hair Today. Sweedlin knows nothing about major childhood diseases or car safety seats, but the technological advances in cosmetology outlined in these periodicals rarely escape her notice.
"The new sunless tanning lotions are really great, but they're so expensive," Sweedlin said. "Maybe that doctor bill from when Porcia had Noxzema [eczema] can wait another month."
While Porcia's 24-month checkup is four months overdue, Sweedlin never misses an appointment at the Glamorous You day spa, where she regularly undergoes facials, makeovers, and leg-waxing sessions. Though she is on a first-name basis with everyone at the spa, she has yet to learn the first names of any of Porcia's friends in daycare.
"There's so many things I want to be doing, but I don't have the time," Sweedlin said. "I should join a gym before I get too old."
Sweedlin has a number of friends, also single mothers, with whom she commiserates over her busy schedule.
"It's important to have someone to trade tips and secrets with," Sweedlin said. "Sometimes my girlfriends and I get out the photo albums and spend hours looking at how our fashion sense has changed."
Continued Sweedlin: "God, there's this one picture. I'm in a hospital bed for some reason—maybe it was when Porcia was born—and I have this stringy, straight hair. Ugh! I have no idea why I ever kept that photo."