BANGOR, ME—Bishop Kelly High School English teacher Christine Niles believes in her students' ability to grow intellectually and achieve success, the naïve 24-year-old told reporters Monday.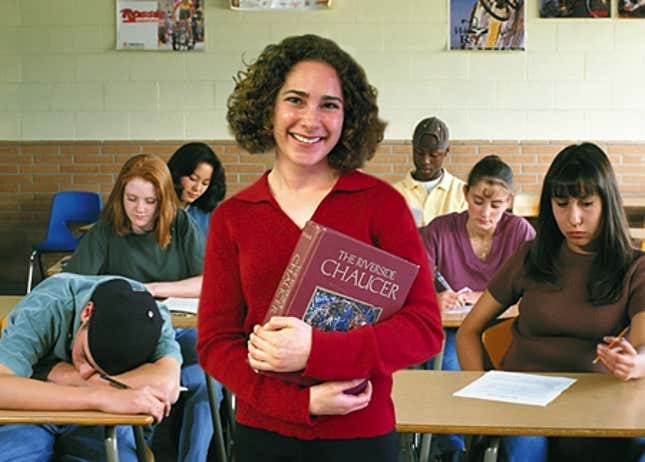 "Teenagers need to be engaged as equals, not talked down to," Niles said, scrubbing the words "Miss Niles is a kunt" from the surface of her desk. "A heavy-handed approach takes the joy out of learning. Some teachers give out detention, but I praise my students for the times they don't skip class, rather than dwell on the days they do."
A recent graduate of the George Washington University education program, Niles came to Bangor last August with the childlike belief that she could somehow inspire a passion for literature in her uninterested students, who see her as a pushover.
"The standard curriculum—Melville, Hemingway, Steinbeck—focuses so heavily on the works of dead white men," Niles said. "Who can relate to that? The tides of multiculturalism have reached every corner of America. Get real! These kids know Tupac, not Tennyson. I need to speak their language to get them interested in learning."
It was her interest in engaging the students in something from their world that led Niles to invite them to interpret contemporary music lyrics as poetry Monday. The class spent the period listening to songs like "Freak Me Slow" by Kelis and "Just Don't Give A Fuck" by Eminem.
"Yes, some of the songs they played had adult themes, but Shakespeare is filled with sex and violence, too," Niles said. "I do wish they had put more thought into the follow-up exercise, though. Only two students handed in their essays."
Niles' students rarely complete their assignments. They also throw things, talk back, and take cell-phone calls during class. Three fights have broken out in her classroom since the beginning of the year, and students have threatened Niles with physical harm multiple times and twice stolen money from her purse.
"Overall, the poetry exercise was a success," Niles said. "We had a particularly rousing discussion about which words in the songs might have a negative impact. The students really seemed to enjoy making that list on the board. I think it did a lot to help them understand that dialogue needs to be conducted in a way that doesn't degrade."
Niles said she had planned to listen to only two songs Monday, but the students were "so participatory" that she adjusted her lesson plan accordingly when they insisted on listening to more.
"It's important to be flexible in the classroom," Niles said. "When I first came here, I gave a lot of writing assignments, but I quickly found out that these kids are much better at communicating verbally. They also don't like tests. I can understand, because tests really do put them into adversarial relationships with their peers."
Niles regularly gives Cs and Ds instead of Fs, because "grades should encourage students to try harder, not discourage them."
"These kids have a lot more on their minds than what's written in books," Niles said. "When they read the newspaper every morning, they see wars, violence, and hardship. With all that pressure, it's understandable that they can't focus their attention on The Scarlet Letter."
Although a handful of dedicated, honor-roll students participate in Niles' class, even they are occasionally indifferent or disruptive.
"When I was their age, I wanted to rebel, too," Niles said. "I preferred watching MTV and going to the mall to doing my homework. Then I read To The Lighthouse, and I was captivated by the way every word was just so. I'll bet that if I add that book to the lesson plan next year, I can fire them up about reading."
Niles' coworkers have observed her efforts with a mixture of sympathy and amusement, waiting for the inevitable moment when her spark is extinguished.
"I remember when I started here," said Jim Hawes, who has taught math at Bishop Kelly for 11 years. "I thought I could get the kids to appreciate the symmetry of math and the intrinsic beauty of a balanced equation. That got beaten out of me midway through my second year, when my car was keyed, my house was TP'ed, I got 12 magazine subscriptions I never ordered, and someone phoned me at 1:30 in the morning and called me a faggot. Now, I'm just happy if they can parrot back the quadratic formula and don't put soap in my coffee."