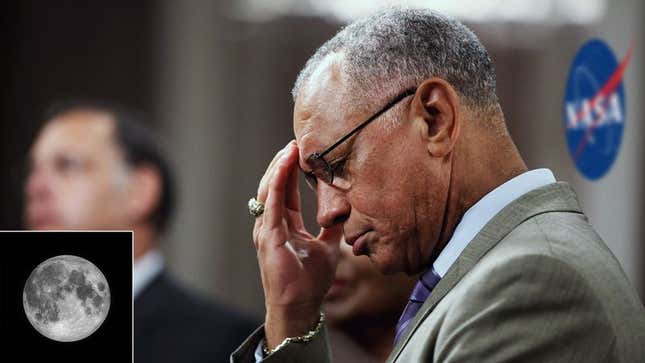 HOUSTON—Saying he deeply regretted his "thoughtless and insensitive" comments, NASA Administrator Charles Bolden announced his resignation as head of the nation's space agency Tuesday following the disclosure of an email in which he made a number of disparaging statements about the moon.
Ron DeSantis Announces He Will Live As Slave For One Year To Prove It Not Bad
Bolden, a 35-year NASA veteran, had reportedly faced mounting pressure to step aside ever since an internal office email in which he characterized the moon as "useless" and "a barren eyesore" came to light several weeks ago.
"I am truly sorry for the inappropriate, untrue, and hurtful things I wrote about the moon," Bolden said at a press conference from Johnson Space Center, adding that he was vacating his post immediately so that NASA could quickly begin the search for a leader who "better embodies the agency's high standard of conduct." "My words were poorly chosen and do not reflect my true feelings about the moon nor the beliefs of the dedicated men and women at NASA. The moon has been integral not just to our nation's space program, but also to Earth itself, regulating tides and stabilizing the planet's rotational axis for billions of years."
"NASA deserves better than my indefensible remarks," added Bolden. "And, most of all, so does the moon."
In the email, sent to several top NASA officials, an exasperated Bolden appears to vent his frustrations about the agency's historic involvement with the moon, going so far as to say that Earth's lone natural satellite "all but ruins the night sky for me" and that every dollar spent on lunar exploration might as well have been "thrown straight in the trash." Later in the email, Bolden seems to downplay the significance of the recent 45th anniversary of the historic Apollo 11 moon landing, wondering "how the hell Neil Armstrong just didn't fall asleep walking around on that thing."
Longtime colleagues of Bolden told reporters that while they respected him for his many contributions to the agency over the course of his career, they agreed that his remarks concerning the widely beloved celestial body, unmistakably sent from his email account and typed by his own hand, had destroyed his credibility.
"I wish I could understand what would possess someone so committed to space exploration to say such ugly things about the moon," NASA Associate Administrator Robert Lightfoot said, adding that he was shocked and appalled when he read Bolden's wish that the moon would "just wane itself out of existence." "But his comments were clearly inexcusable. Unfortunately, I think his resignation was the only way for NASA, and for Charles himself, to move forward."
"This isn't the Charles Bolden I know," added Lightfoot. "At least the one I thought I knew."
Several unnamed NASA sources, however, told reporters that Bolden's moon email was indicative of a pattern of intolerance that spanned decades and that also included derogatory comments about astronomical phenomena such as pulsars, sunspots, and the spherical mass of comet-like objects beyond the outermost planets known as the Oort cloud.
Additionally, sources pointed to an event honoring the retirement of the Space Shuttle in 2011, when a hot mic reportedly caught Bolden calling gas giant planets "big fucking nothings."
While an interim NASA administrator is expected to be appointed within days, Bolden himself acknowledged that it would take time to find a successor capable of undoing the damage he had inflicted and even suggested that his attacks on the moon may in fact have irreparably tarnished the space agency's legacy.
"The person who will assume my post will be forced to shoulder an immense burden of my own making," Bolden said. "For the sake of America's space program, I only hope he or she will have the commitment and wherewithal to slowly build back the trust that I violated with my destructive words about Earth's moon. It is a special, important, and unique astronomical body, and NASA will always remain committed to it."
At press time, NASA was launching a probe to deliver its formal apologies to the moon.