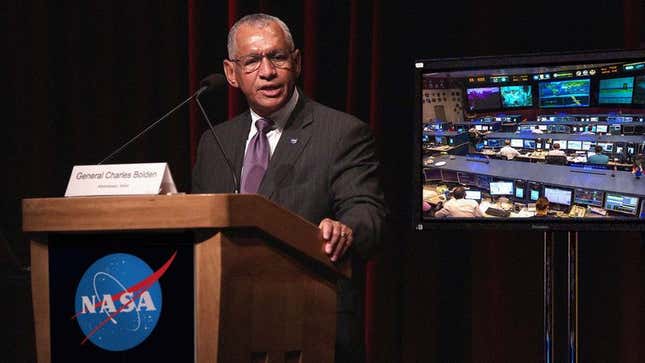 WASHINGTON—In what is being described as the most ambitious mission ever undertaken in the space agency's history, NASA officials announced at a press conference Tuesday their bold new plan to still exist by 2045.
Edgelords Explain Why They Love Elon Musk
NASA's top directors, who presented a detailed, long-term timeline for the project, dubbed the Fortuna Program, told reporters that the plan would lay the groundwork for the space agency to reach far into the 2040s. Senior officials noted that their goal of keeping NASA's facilities open for the next 30 years would test the very limits of their skill and ingenuity, explaining that the undertaking would likely surpass the Voyager missions and manned spaceflight in terms of technical difficulty.
"Though the scope of the Fortuna Program is far greater than anything we've ever attempted, I'm certain that, through the right combination of hard work, perseverance, and a little bit of luck, NASA can make it all the way to 2045," said the agency's administrator, Charles Bolden, who emphasized that the plan would require cutting-edge innovation and spectacular administrative feats to arrive at the lofty objective. "With so many great minds devoted to this project, we have a chance at achieving something that once seemed like the stuff of fiction."
"It may seem impossible now, but we hope to realize the vision of establishing a human presence in NASA deeper into the century than ever before imagined," Bolden added.
When questioned about the plan's viability, Bolden told reporters that while certain doubts remain, the project was nonetheless an absolutely crucial undertaking for NASA. Bolden further emphasized that the Fortuna Program's goal was technically achievable on paper, and could feasibly be accomplished in a real-world scenario so long as everything "goes perfectly" for the space agency.
"The first critical step toward reaching our goal is to still be here by the year 2020," said Bolden, adding that the plan allowed absolutely no room for error. "From there, we will move on to the next phase of the mission, which is to implement an intensive 10-year plan to remain operational. If we meet that goal in 2030, then there's no reason to believe NASA won't make it to 2045."
"As long as each stage succeeds and we keep hitting our yearly milestones of being a functioning agency, we will eventually get there," Bolden continued. "This mission, if successfully completed, has the potential to be one of mankind's greatest achievements, greater even than the Hubble Telescope, the International Space Station, and putting a man on the moon."
Bolden, who confirmed that all of the agency's personnel and resources would be focused solely on the project, explained that the Fortuna Program represented the very future of NASA.
"We may not be around to reap the benefits of the Fortuna Program, but the next generation will be," said Bolden, noting that the plan was rife with logistical challenges and unknowns that would have to be dealt with as they emerge. "Though the risks are great, we will continue to build upon what we've learned during our 56-year history to reach our objective at any cost."
"Today marks the beginning of a new chapter for NASA," Bolden added. "Whether we succeed or fail, I believe that the outcome of this mission will define the American space program for years to come."