CAPE CANAVERAL, FL—NASA officials announced today the successful launch of the new shuttle Moonage Daydream, marking the beginning of a long-anticipated two-week conceptual mission inspired by British rock star David Bowie.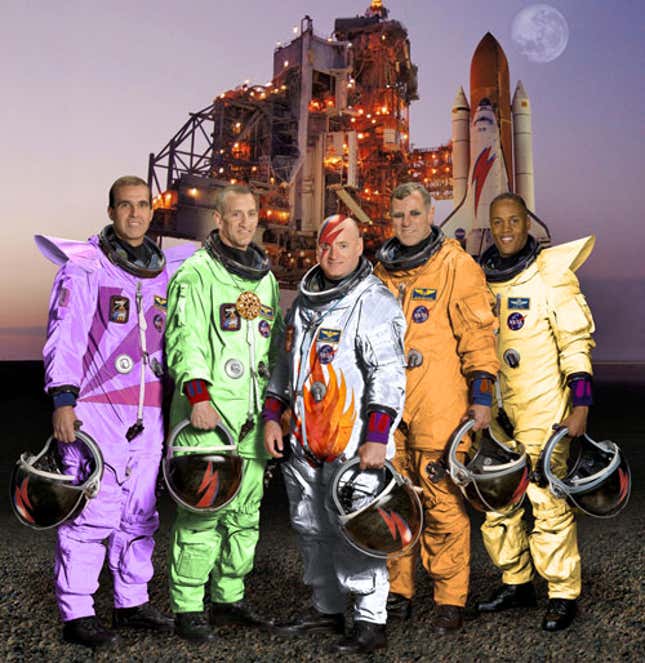 Edgelords Explain Why They Love Elon Musk
According to NASA administrator Maj. Gen. Charles F. Bolden, Jr., the highly experimental glam space program—dubbed Project Starman—has been in development for exactly five years. Though engineers initially feared the mission might "blow our minds," the historic launch ultimately proceeded without incident.

"Admittedly, this is a very bold and risky departure for the agency," said Bolden, later adding that Bowie's Ziggy Stardust period and other outer-space-related work has been a major influence on NASA's direction since the early 1970s. "Those familiar with NASA's previous, more conventional research and exploration sensibilities are going to be in for quite a shock. Many are likely to be confused and threatened by the boundary-pushing nature of the project."

"This mission certainly isn't for everyone," Bolden added.

NASA chief engineer Mike Ryschkewitsch said that Moonage Daydream differs from earlier shuttle models in several significant ways. Though the overall shape is similar to previous crafts, the exterior of the $4.5 billion vehicle has been fitted with improved shielding, making it better equipped to withstand the hazy cosmic jive.

In addition to the shuttle redesign, several other daring changes have been made to NASA's equipment. According to Ryschkewitsch, the astronauts, or "spaceboys," as they will be called during the mission, are equipped with state-of-the-art pressurized suits.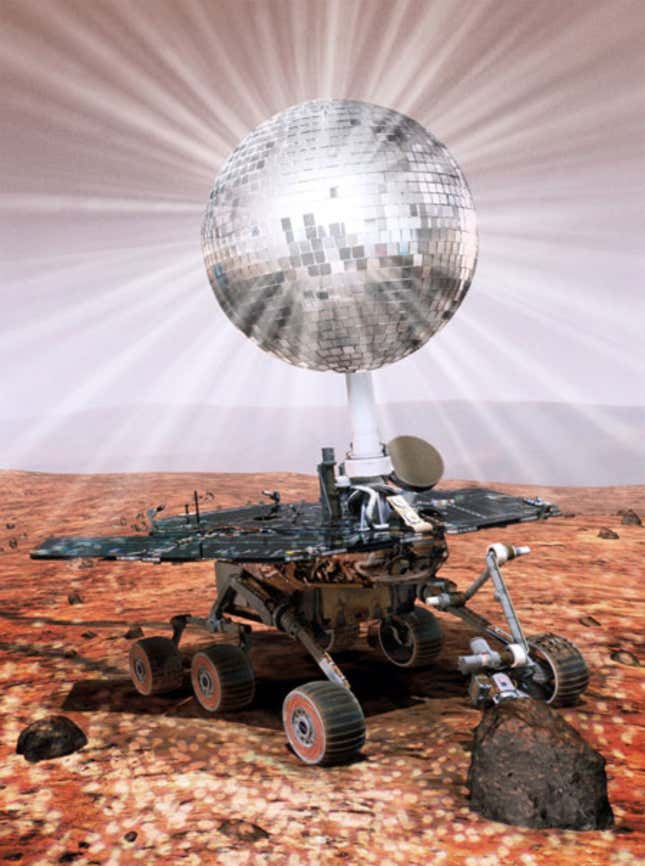 "These new suits are veneered with a protective silver lamé to complement the multicolored lightning bolts emblazoned across the helmets' sun visors," Ryschkewitsch said. "They've also been updated with several improved components to ensure the team is completely safe when it's time to leave the capsule—if they dare."

The five-member crew is made up entirely of United States Air Force officers and includes Maj. Tom Louis, Maj. Tom Greely, Maj. Tom Ohweiler, Maj. Thomas Sinclair, and Maj. Tom Keenan.

While the mission will primarily study paranoia, decadence, and the fluidity of sexual identity in a zero-gravity environment, additional scientific testing will be conducted during the shuttle's 14-day orbit of Earth.

"One of the experiments we're most excited about will address the effects of Mars-like conditions on several different species of arachnids," NASA biologist Norman Stern said.

Public response to the project has been generally positive. Many Americans, however, consider the mission an egotistical and self-indulgent waste of taxpayer money.

"I just don't see this launch having any sort of lasting influence on future space exploration," St. Louis attorney Kevin Moran said. "Certainly NASA has to take risks to further mankind's knowledge, but this mission is simply too ambitious in scope to sustain mainstream interest."

Added Moran, "It's pretty out there."

Though NASA has defended the importance of Project Starman, it has reportedly scrapped a T. Rex–inspired mission named Project Interstellar Soul, saying that the launch of the zinc-alloy probe Venus Loon was made laughably irrelevant by the current program.