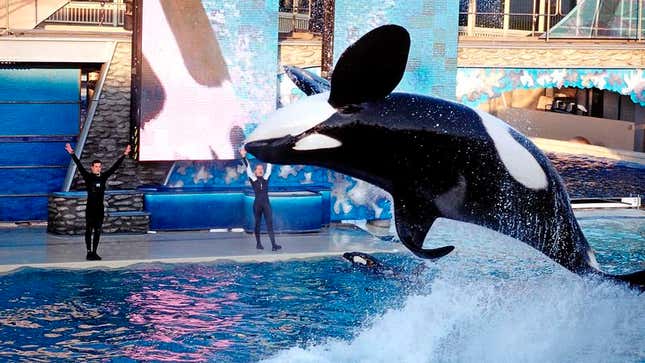 WASHINGTON—Ending their intensifying tide of criticism over the marine park's unethical treatment of animals and other disturbing practices documented in the 2013 documentary Blackfish, Americans across the nation announced this week that they were "totally back on board" with SeaWorld after seeing an awesome and absolutely can't-miss orca trick.
Ingenious Forms Of Birth Control Used In Ancient Times
"I realize that, in the past, I have expressed strong disapproval regarding SeaWorld's inhumane and aggressive business practices, and I have urged on numerous occasions that measures be taken to curb and police these practices—but, holy shit, what that orca just did was amazing," said Bethesda, MD resident Jennifer Carr, echoing sounds of delight from millions of awed Americans after 6,200-pound orca Kayla did a reverse breach during the SeaWorld Orlando show "Believe." "At first the water is completely still and you're thinking, 'Where's the orca?' Then all of a sudden she just jumps 20 feet and does a sweet backflip back into the water. It was incredible. I mean, what a show."
"The best part was the splash—it was huge!" Carr added. "Hell, sign me up, SeaWorld, because I am all in!"
Radically reversing months of intense backlash over the marine park's care and training of dozens of orca whales in captivity, Americans across the nation confirmed that "all bets were off now" and that they needed to get to SeaWorld as soon as possible if they wanted to see Kayla do another "crazy, sick-as-hell" trick.
G/O Media may get a commission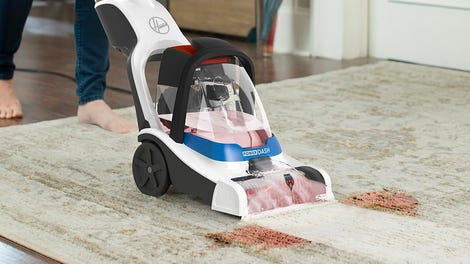 26% Off
Hoover PowerDash Pet Compact Carpet Cleaner
In particular, millions of citizens confirmed that in addition to watching Kayla do another backflip out of her tank, they were excited to see her get more fish from her trainer and smile another big, happy smile.
If they were lucky, Americans confirmed, they may get to see two orcas do a flip at the same time, which would be "seriously insane."
"What can I say? I had SeaWorld all wrong—I had myself convinced they were some sort of exploitative company that abused animals in the pursuit of cheap thrills for tourists, but then I saw that orca make a big wave by slapping the water with his fin and I was like, 'Hold the phone, I need to see that again,'" environmental reporter Craig Edmonds said while imitating the whale's motion with his arms. "How do they even learn that stuff? It's incredible. All I know is there'd better be more where that came from, because you have most definitely won yourself a new fan, SeaWorld."
According to a recent survey, when reminded of the recent controversy surrounding the documented physical and emotional dangers of producing orca shows, 88 percent of Americans responded, "Granted, but did you see how high that orca got? She must've been two feet up in the air!" In addition, more than 90 percent of Americans said that they were "highly disappointed" they didn't get to see the whales come totally out of the water and squirt audience members with their blowholes, while an additional 70 percent said the music should have been even louder because it made the whole routine "way more badass."
Two in three Americans also reported that, moving forward, they'd like to see whales do two flips in a row instead of one.
"Sometimes one of the trainers will swim with them or even ride on one of them like they're a surfboard, which is the fucking best, because how cool would that be to ride an orca like a surfboard?" said marine biologist Jackson Cahn, adding that he is officially renouncing his campaign urging the government to take legal action against SeaWorld. "Man, I wish I could ride one. I'm gonna go down to Orlando and try to touch one for sure."
"I mean, all in all, SeaWorld is a pretty magical place when you think about it," he added.