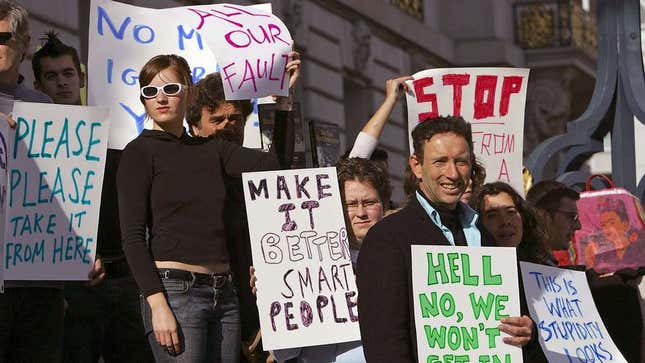 WASHINGTON—Overwhelmed by the frustration of being utterly unable to solve any of the numerous difficult problems it faces, a worn-out nation finally broke down Thursday morning and begged its smart people to please just fix everything now.
CDC Issues Dire Warning That Nick Cannon Is Feeling Horny
Admitting they had "absolutely no idea what the fuck [they were] doing," millions of Americans immediately ceased trying to manage the country's large-scale, ongoing disasters and pleaded with U.S. scientists, economists, educators, philosophers, and inventors to intervene and make things better again.
"You are good at doing things, and we are bad, okay? We admit it," said Cincinnati-area executive Robert Everhart, who belongs to the growing consortium of citizens desperately asking America's qualified people to take it from here. "So we're begging you, please grab hold of the reins. We know we said we didn't need to read any books or have a lot of expertise to do this stuff, but we were wrong. We need your help, and we need it bad."
"Obviously we've messed things up pretty severely, but we're fairly certain you can fix them back up," Everhart added. "You guys are really smart."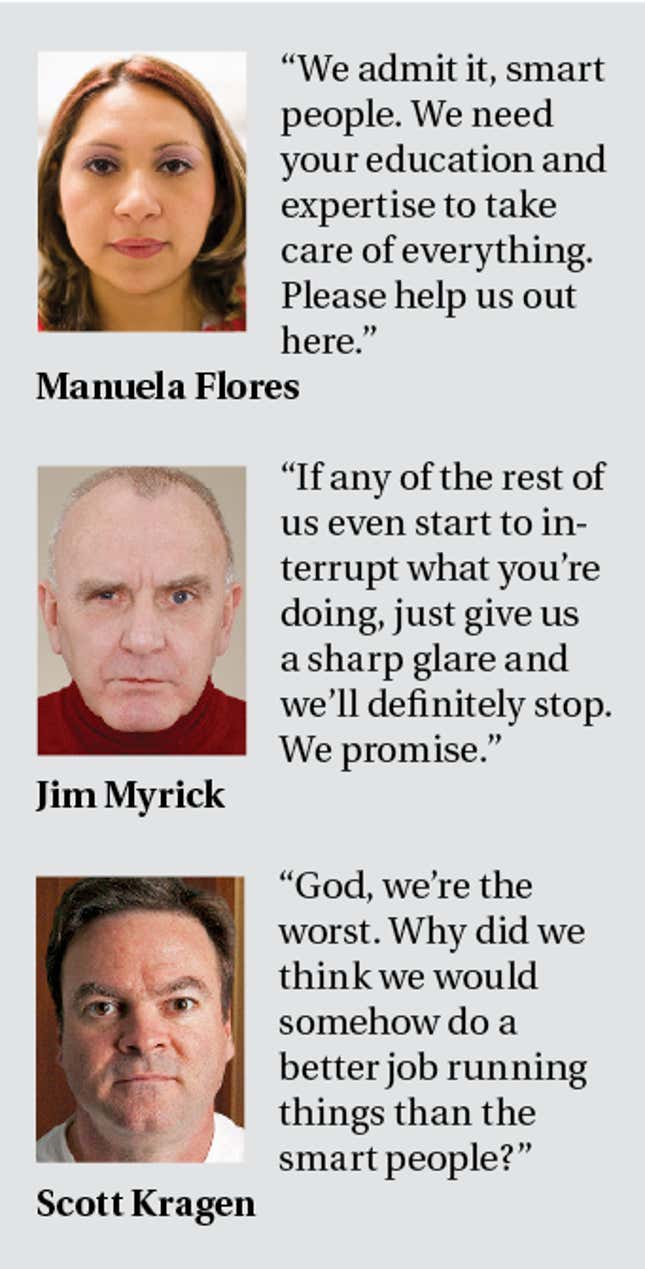 Acknowledging they lacked the know-how to put anything together without it all falling apart again in a matter of seconds, millions of ordinary Americans implored the nation's skilled individuals to just use their knowledge to end the financial crisis, manage the health care industry, determine which human beings are actually fit to hold political office, teach the nation's children, and enact overarching policy decisions that serve the greater good.
Citizens across the nation also promised to stay completely out of the way while those people who actually have some idea what they're doing roll up their sleeves and get down to the bottom of all this. In addition, the competent have been issued assurances they will not be hindered by irrelevant, totally uninformed opinions while they are getting things done.
"You won't hear a single word out of us, we swear," said Chicago real-estate broker Paul Linder, mentioning that smart people can have all the time and resources they need to make the necessary repairs to society. "We're going to keep our attention where it's best suited by watching some T.V., surfing the Internet, or maybe trying to mend that fence of mine that's been falling down for so long. That kind of thing is really more our speed."
"Although, actually, if you guys could help out with the fence, that would be great," Linder added.
According to Beltway insiders, the phenomenon has spread to the highest levels of the U.S. government, with hundreds of lawmakers crumpling up all bills currently under debate and claiming that pervasive problems related to unemployment, a crumbling infrastructure, and energy crises should probably be left to people who know some things about that stuff.
In the hours following the country's desperate pleas, the 2012 Republican presidential candidates issued statements agreeing that the United States was in pretty bad shape right now and that it would indeed be best to start letting people with a track record of accomplishment act on the nation's behalf.
"As anyone who listens to me for even two seconds can tell you, I'm no expert when it comes to pretty much anything," Gov. Rick Perry of Texas said. "That's why I promise voters that as president, I will make it my top priority to just hang back and let smart people take care of everything."
"Come to think of it, though, I'm not really qualified to give an opinion on this or any other issue," Perry continued. "I should probably just shut the fuck up now and go away."