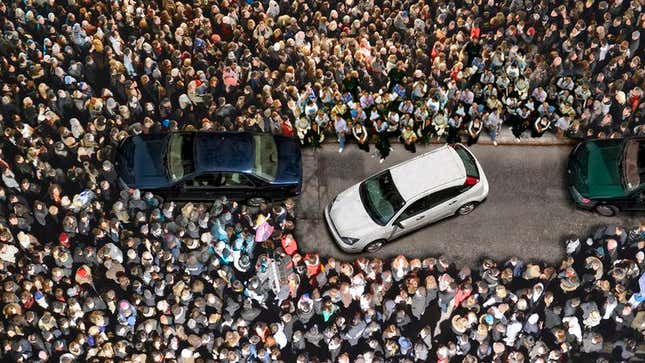 PHILADELPHIA—According to reports, the nation's entire population gathered around and looked on with concern Thursday as 28-year-old Erik Olsen attempted to parallel park his Honda Civic in a tight space on South Street. "Man, he's cutting it pretty close there," said Milwaukee resident Adam Collins, 36, who was among the 315 million American passersby watching with pained expressions as Olsen moved backward several inches and then abruptly hit his brakes. "He didn't cut the wheel soon enough, that's the problem. At this point he needs to just pull out again, line up about 3 feet closer, and then—Christ, he's gonna nick that Corolla with his bumper if he's not careful." Moments later, the entire U.S. populace reportedly let out a collective groan as Olsen accidentally backed his tires up onto the curb for a second time.
This Week's Most Viral News: September 22, 2023
UPDATE: Sources have now confirmed that following his 12th failed attempt to fit his car into the space, Olsen has reluctantly accepted an offer from a Tempe, AZ woman to park it for him.