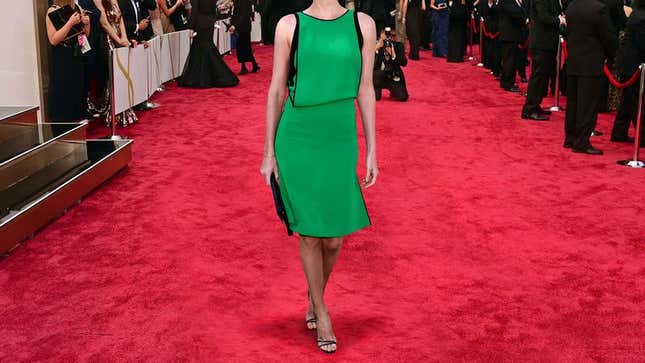 LOS ANGELES—In response to a rash of harsh criticism leveled against a gown worn by actress Charlize Theron at a recent Hollywood charity event, millions of Americans across the country have risen up this week to show their support for the publicly ridiculed garment, sources nationwide confirmed.
This Week's Most Viral News: September 29, 2023
Rallying against vicious critiques from celebrity news magazines, fashion blogs, and entertainment pundits, men and women from coast to coast are reportedly rushing to the defense of the widely derided sleeveless knee-length dress, with members of the growing grassroots movement issuing vocal statements condemning the item of clothing's savage treatment by the media and attempting to restore its sullied reputation.
"What those people have said about the gown is just plain wrong," said visibly distraught Cincinnati resident Margaret Feinberg, referring to remarks from professional fashion critics who described the dress as "shapeless," "unflattering," and "not a good look for Ms. Theron, not at all." "Some of the comments that I've read about the gown are not just uncalled for, but deeply offensive to anyone with a conscience. This beautiful piece of clothing needs our support, and we won't rest until our voices are heard by every style columnist and celebrity tabloid editor in Hollywood."
"Enough is enough," Feinberg continued, pausing momentarily to wipe a tear from her cheek. "The gown deserves better."
The popular movement against the embattled garment's detractors has reportedly led to widespread boycotts against the entertainment news programs Access Hollywood and Entertainment Tonight, which each referred to the dress as a "fashion flop." Additionally, in the wake of their assertions that the outfit resembled "an oversized sack," celebrity gossip websites such as TMZ and PerezHilton.com are facing emphatic calls to retract their inflammatory comments and issue formal apologies to the gown.
According to a recent Reuters poll, the vast majority of Americans are staunchly backing the green colorblock dress with black leather detailing, with 72 percent of respondents saying that the media never gave the gown the fair treatment it deserves, while a full four-fifths of those surveyed expressed outrage in particular over a recent post on StarStyle.com that described the article of clothing as something "straight off the nightmare rack."
"I stayed quiet when these animals went after Anne Hathaway's backless Prada ensemble after the 2013 Oscars, but I won't stand by idly and watch them shamelessly slander yet another innocent dress," said Syracuse, NY resident Joshua Chen, whose online petition calling for the censure and termination of anyone who referred to the apparel as a "train wreck" had at press time drawn upwards of 400,000 signatures. "It just makes me sick to hear them say these awful things about a perfectly nice dress that never did them a bit of harm. Well, no more."
"These people ought to be deeply ashamed of themselves," Chen added.
Sources confirmed that many of the publications that criticized the evening wear have already felt repercussions from the popular backlash, with numerous websites and magazines having lost millions of dollars in advertising deals from sponsors that do not want to be associated with such bitter sartorial attacks. Notably, Us Weekly, which reportedly described the gown as "just plain blah" and placed the article of clothing in a "Worst Dressed" photo collage, saw longtime ad buyer Kraft Foods sever its relationship with the publication earlier this week, with the conglomerate issuing a statement saying that the company "is proud to stand alongside the gown."
However, despite their achievements thus far, supporters of the maligned dress emphasized they would not discontinue their efforts until the gown's good standing is fully restored.
"These people need to realize they can't mock a nice, respectable piece of clothing and expect to get away with it," said Bismarck, ND resident Jenna Davies, wearing a custom-printed T-shirt bearing the phrase "We Are All The Gown." "From now on, Hollywood's fashion commentators will think twice before going after a dress as lovely as that again. That's what this movement is all about."
"Though, they can say whatever they want about that hideous, frumpy set of drapes that Angelina Jolie wore to the Academy Awards," added Davies. "Seriously, she should shoot her stylist in the face after that."