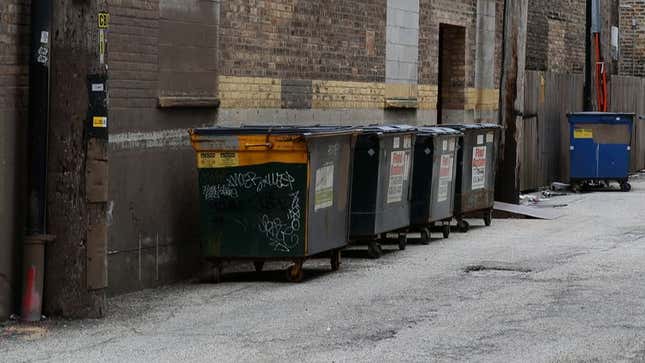 WASHINGTON—Preparing for a surge in business from the millions of Americans who could soon be left without access to medical care, the nation's back alleys were reportedly rushing to expand their services Thursday in anticipation of the American Health Care Act becoming law.
CDC Issues Dire Warning That Nick Cannon Is Feeling Horny
Sources from back alleys in every state confirmed that as soon as the U.S. House of Representatives passed the bill known as Trumpcare, their filth-strewn, sidestreet-based facilities began scrambling to add personnel and expand into nearby shuttered warehouses and vacant lots in order to meet the increased demand for services expected from low-income families, elderly Americans, individuals with pre-existing conditions, and others who will have decreased access to health coverage.
"We're gonna have thousands of people coming through here soon, and right now we're just not ready for them," said Durham, NC man Curtis Hendershaw, who spoke from a narrow alleyway behind the Dragon Inn Chinese restaurant, adding that he had already begun making calls to all the unlicensed physicians and disgraced former medical professionals he knows. "We're used to stitching a guy up here and there, but as soon as insurers can drop essential benefits and impose annual payment caps, we'll be doing all sorts of major surgeries, pediatric services, mental health treatment, you name it."
"I just put some cardboard down under that fire escape there so we can have a dry place for a neonatal unit," he continued.
According to reports, back alleys around the country have begun to upgrade their facilities, hauling in additional soiled twin mattresses to increase the number of available beds, shoveling out rodent carcasses to create makeshift waiting areas, and diverting drainpipes from adjacent buildings so amateur practitioners have a supply of rusty water to scrub their hands with before performing appendectomies.
The demand is expected to be so great that the back alleys are reportedly planning to offer a wide array of medical services, with each darkened, grimy corner of the nation's empty back streets and abandoned industrial parks focusing on specialized areas, such as emergency care, geriatrics, labor and delivery, prescription drug dispensing, or outpatient amputation procedures.
"This is a huge change for us, because we've been scaling back for the past six or seven years, and now all of a sudden we have to undergo a major expansion so we can meet the needs of a large section of the community," said Don Chalmers, 51, who works in a back alley behind a parking garage several blocks from Cedars-Sinai Medical Center in Los Angeles. "We've lost a lot of business to that hospital up the street, but with this new bill cutting Medicaid funding by hundreds of billions of dollars and eliminating the employer mandate, a lot of people will be walking right out those doors and right into the ICU we're setting up in the back of this old burnt-out van over here."
"It's not that bad, though, really," he continued. "As soon as your procedure's finished we lay you down under a bridge where you're welcome to rest up as long as you need to."
Chalmers went on to state that he had even further expansion plans for the future, gesturing toward a nearby dumpster, which he said he was hoping to set up as a hospice unit. Additionally, he said he had found a dental assistant with access to oral painkillers who told him she could help out with addicts who, if the 2010 Affordable Care Act is repealed and replaced, will no longer be able to afford methadone or addiction treatment.
Speaking with reporters, several Americans who stand to lose their health insurance under Trumpcare expressed their gratitude that the nation's back alleys were expanding to meet their needs.
"I have three young children, so it's good to know that a place like this is here, just off of Cottman Avenue, beyond all the truck loading docks," 41-year-old Laura Williams said as she watched a broken leg being reset in an alley behind a Northeast Philadelphia check-cashing facility. "This is great news for my mom, too, who's starting to get on in years. It's not that convenient; I had to take three buses to get here and then climb through a hole in a chain-link fence. But at least it's something my family can afford."
"Considering how busy these places are about to get, I just hope they'll be able to fit us in," Williams added.