'Circle Of Life,' Say Women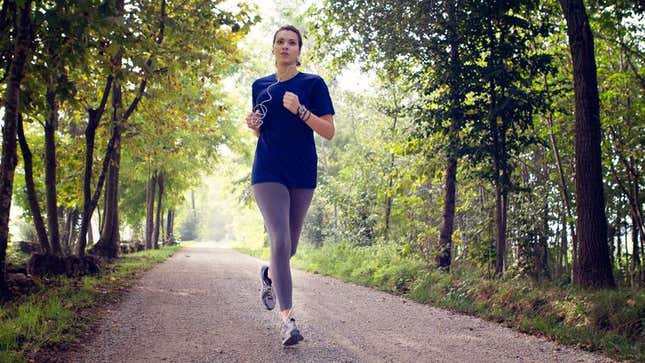 Study Finds LSD Highly Effective At Ruining Nephew's Baptism
NEW YORK—Describing it as just another stage in the unending cosmic circle of life, the nation's female joggers acknowledged Tuesday they shall all, at some point or another, be physically attacked and buried deep in the woods.
Women joggers of all ages across the country told reporters that every female who partakes in the aerobic exercise will eventually turn up as a half-nude body discarded in a heavily forested area, thus fulfilling the majestic journey taken by all jogging females, from time immemorial, in their passage through the universe.
"Such is the transcendent, time-honored pathway taken by all women who choose to exercise outdoors by themselves," said Rhonda Wilmington, 28, shortly before beginning her 5 a.m. jog around Manhattan's Central Park. "It is one of life's great constants: the sun rises, the sun sets, and a lone lady jogger will be stabbed, dragged into a forested area, and ultimately be thrown in a ditch 15 feet off the bike path. So it has been, and so it shall always be in the universe's perennial cycle of life, death, and rebirth."
"Days later her body will be found—her bloody Nike tracksuit covered in leaves, dirt, and ants," Wilmington added. "Just as the cosmos, in its infinite mystery, always intended."
Calmly confirming that it is their ultimate, inexorable destiny to one day become the subject of a missing persons report, the nation's women joggers confirmed this week that they put on their running shoes and spandex tank tops every morning knowing full well it could end up being the day they are savagely beaten or sexually assaulted, and knowing full well that such a fate is neither bleak nor catastrophic, but merely their preordained role in the greater tapestry of life itself.
When asked by reporters to elaborate on their eventual demise at the hands of a violent assailant, the majority of women joggers said, "This is the only way it can be. This is the way it has to be. This is the way of the Earth, the way of the stars, the way of all things connected as one."
"We do not know if death will come to us during a morning jog, an evening jog, or even a midday jog right in broad daylight," said Fort Smith, AR resident Judy Gonzalez, with an expression of total serenity. "But when it comes—when we turn around and see a wild-eyed man running and closing in on us—we face our death knowing the forces of the universe had always intended for us to haplessly kick and scratch our attacker until he eventually overpowers us."
"Who am I to question how the tide convenes upon the shore, or when the leaves begin their gentle, autumnal descent?" said Boston attorney Lindsay Hatcher. "All matter, living and nonliving, must play its prescribed part in the continuing theatre of the cosmos, and if it is my role to be a mangled corpse stumbled upon by children playing Frisbee, so be it."
Other joggers added that while their grisly fate will, of course, be tragic, they have gradually found inner peace in knowing they have fulfilled their chapter in nature's grand narrative.
"It is harmony, seemingly opposed forces working in concert to create a beautiful and inevitable whole," said Seattle accountant Jessica Chen. "Just as the spider eats the moth and the lion eats the gazelle, so too must the anonymous assailant kill the jogging woman, so she may become one with the universe."
"We all come from the earth cold, alone, and utterly vulnerable, and we must all return to the earth in much the same way," Chen continued. "Accompanied only by the fading sound of an iPod playlist blaring through our headphones."
Female joggers went on to say that those who are not killed during their morning routes will go on to be ogled, shouted at, and sexually harassed for the remainder of their days, thereby fulfilling their own role in the timeless saga of existence.