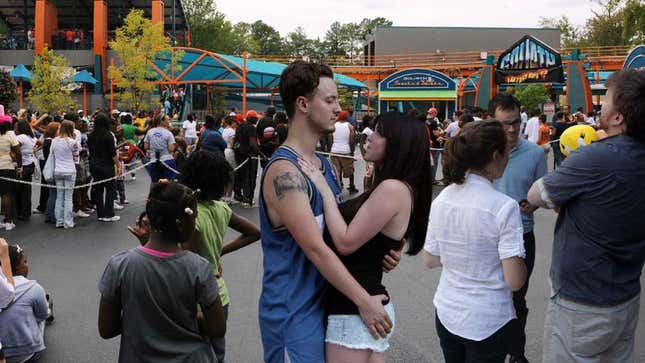 WASHINGTON—Interrupting various stages of excessive public intimacy to address the general population, the nation's gratuitously sexual couples announced plans Thursday to wait in line at Six Flags amusement parks across the country.
This Week's Most Viral News: September 22, 2023
A representative for the country's overly intimate couples confirmed a multi-part initiative that includes arriving at all 19 Six Flags parks in the United States, entering lines for various attractions, and playfully groping, kissing, caressing, pinching, and tickling one another in plain view of all park attendees.
"On behalf of all sexually unrestrained couples throughout the country, I would like to advise Americans that as soon as you arrive at the entrance line for Six Flags, we will be there, cramming our tongues down each other's throats," said spokesman Brent Rossino, addressing the media while wrapping his arms around his girlfriend from behind and gently playing with her belly button piercing as they stood in line for the Kingda Ka roller coaster at Six Flags Great Adventure in Jackson, N.J. "We will engage in similar behavior while in line for every ride, every food stand, and every carnival game inside the park. It doesn't matter if families, senior citizens, or entire youth groups are nearby—we will make out and cup various parts of each other's bodies in front of any and all other visitors."
"And we will do this throughout the day," Rossino added. "Whether it's 9 a.m. or 10 p.m., I will be repeatedly slapping her ass with my plastic Coke bottle right in front of you."
Rossino confirmed that the nation's immodest couples would fondle one another within just inches of fellow park patrons, while at the same time making loud references to their future sexual activity later in the evening. In addition, the grossly libidinous men and women revealed plans for ceaseless physical contact while in line for the Mind Eraser ride, often slowing the flow of foot traffic as they lean against handrails with their thumbs in their partners' waistbands.
The couples added that, as they wait to board Batman: The Ride or any of the parks' other inverted roller coasters, the male partner will run his tongue along the woman's shoulder blade and neck while lightly stroking her thighs and then make a series of sexual remarks beginning with, "I know what else you're going to ride tonight."
Furthermore, the gratuitously sexual couples revealed that while standing in line to order concessions, the female partner, wearing a tight-fitting tank top and clear bra straps, will lift up her boyfriend's basketball jersey and run her hands from his abs to the small of his back before they feed sugar and cinnamon churros into one another's mouths in an unpleasant, erotically charged spectacle.
"As soon as I get in line at Hurricane Harbor, I plan on squealing aloud for everyone to hear as my boyfriend rubs his hands along the exposed skin above my low-rise jean shorts, and then I'll giggle suggestively when he asks if I'm prepared to get 'super wet,'" girlfriend Cristina Moran, 27, said of her upcoming visit to Six Flags New England. "After that, we'll make out for eight to 12 minutes straight, generating loud sucking and smacking noises while I tug on his Metallica World Tour T-shirt."
"If you're in line near us, we may accidentally graze you as we run our hands up and down each other," Moran continued.
At press time, the male partners confirmed that if anyone said anything about or even looked at their girl, they would knock out all their fucking teeth.