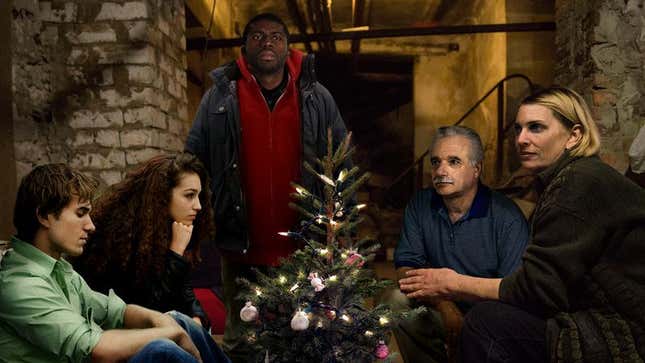 UNDISCLOSED LOCATION—Persecuted and driven into hiding because of their beliefs, the nation's oppressed Christians reportedly huddled in a secret underground bunker late Wednesday night to decorate and light a single withered Christmas shrub.
Edgelords Explain Why They Love Elon Musk
At great personal risk, the Christians were said to have smuggled in a few strings of colored mini lights, tinsel, popcorn garlands, Hallmark Keepsake ornaments, and other contraband in order to trim the shrub inside the subterranean chamber, the last place in America where they were safe to celebrate Christmas.
"We have come together today to observe a Christian holiday that has been all but stamped out on the surface," said a man who wished to be identified only as "Greg," after hanging a figurine of Mickey Mouse dressed as Santa Claus from one of the shrub's boughs. "I can't say this humble bush is much of a Christmas tree, but it was the largest we could manage to get here, given the circumstances. Let us remember, though, that to merely celebrate Christmas—to exchange gifts and eat our candy canes in peace—without the government or the powerful secular elite coming in and destroying it is a blessing in itself."
"They want to bring an end to our holiest day," he added, as several others erected a 3-foot-tall light-up Grinch and plastic signpost bearing the words "Santa Stop Here" behind him. "It is up to us to keep Christmas alive."

After double-checking on the chamber's entrance hatch to ensure it was tightly closed and locked, Greg then reportedly led the gathered Christians in hushed renditions of "God Rest Ye Merry Gentlemen" and "A Holly Jolly Christmas" as the shrub was lit.
Those in attendance, many of whom had trekked hundreds or even thousands of miles, spoke of the great sacrifices they had made solely so that they could look upon an actual Christmas tree with their own eyes. A number of the Christians recounted how they had secretly carried a brightly painted plastic nativity scene and an inflatable 7-foot-tall snowman to the secret site, the latter item having been trafficked across three states in a truck with a false bottom. Others mentioned how they had sewed a few star- and wreath-shaped sugar cookies into the linings of their coats to avoid detection by the masses who sought to erase their holiday—and ultimately, their entire faith—from American life.
Reports confirmed that many who had arrived in the hidden underground sanctuary immediately broke down in tears upon being greeted with the forbidden words "Merry Christmas," a phrase none had heard spoken openly in years for fear of harsh reprisals.
"It was difficult and dangerous to get here, but it's all worth it to actually be able to celebrate the birth of Jesus," said a 42-year-old teacher from Virginia who refused to give her name as she helped flock the shrub with a spray can of fake snow and arranged gifts of Yankee Candles and Amazon gift cards underneath its meager branches. "Unfortunately, this is the only way we can practice our beliefs now that corporations, the media, and our elected leaders have all conspired to remove every trace of Christmas from the country."
"I just want to make sure my kids know what Christmas is really about," she continued, adjusting the plush reindeer antlers atop her head and switching on her glowing Rudolph nose.

After the Christmas shrub was lit, the Christians were reportedly grateful to partake in other sacred traditions without fear of interference or abuse, such as the reading of the 2005 storybook classic The Elf On The Shelf and the viewing of grainy VHS copies of A Charlie Brown Christmas, The Santa Clause, and other beloved films that had been passed down through the generations.
Sources confirmed that as the evening drew to a close, all of their wrapping paper, Christmas cards, and fabric Santa hats were burned in trash cans to erase any evidence of the shunned celebration. The wary Christians then reportedly removed all incriminating green-and-red items from their persons and dispersed in small groups so as not to attract attention from federal authorities.
"Make sure your little ones destroy their stockings before you leave and empty their pockets of any trinkets or bells—they mustn't have anything on them that jingles," one man was overheard saying tearfully to a friend before embracing him and slipping off into the night. "I'll see you again next December, God willing. Stay safe out there."