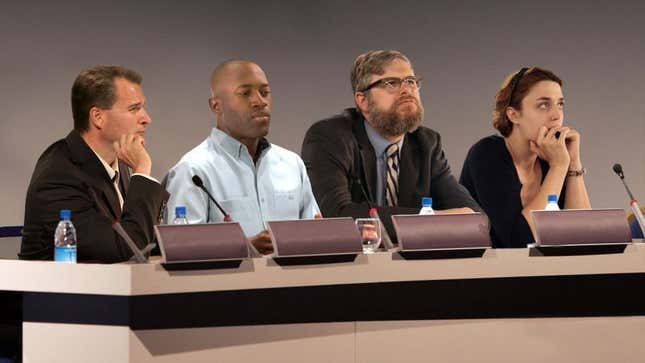 NEW YORK—Following what they deemed to be a peculiar interaction with a number of possible implications, the nation's top overthinkers gathered for an intensive three-day symposium this week to determine what that's supposed to mean.
This Week's Most Viral News: September 29, 2023
Thousands of overthinkers from across the country, who were seen furrowing their brows and squinting intently, convened in the auditorium at the New York Hilton in midtown Manhattan in an effort to closely scrutinize the words that had been said and ascertain what—if anything—had been the actual intention behind the exchange in question.

"That was definitely weird—wasn't it weird?" leading overthinker Jennifer Cuthell of Athens, GA said during the symposium's opening remarks, addressing the agitated, handwringing crowd. "Or maybe we were being weird. Could that be it?"

"Hmm," Cuthell added.

"It's probably a lot simpler than we're making it out to be. But what if it isn't?"
After the kickoff event, attendees reportedly had the opportunity to sit in on several breakout sessions, each with a specific focus, including a seminar on parsing the exact phrasing of the comments and inflection of certain syllables, an in-depth recap of dozens of past interactions intended to give the latest scenario more context, and a body language workshop wherein overthinkers aimed to determine whether the speaker's posture and arm movements might divulge the actual sentiments underlying their words.

Additionally, sources said that attendees expanded their inquest by bringing in several outside acquaintances to weigh in on the interaction, before ultimately disregarding their input and continuing to follow their own lines of reasoning.

"By itself, I guess you could say it didn't mean any more than just the words that were spoken," said Scott Banks of Racine, WI, one of the top overthinkers present, who then placed his chin in his hand, looked down at the floor, and became lost in thought for several moments. "Of course, you have to take into account the other weird thing from last week, too."

"It's probably a lot simpler than we're making it out to be," he continued before absentmindedly chewing on a fingernail. "But what if it isn't?"

Sources stated that the overthinkers returned to the main auditorium for an afternoon keynote speech titled "The Way It Was Said: Thoughts On Tone Of Voice," before breaking for an hour, during which time the majority of attendees reportedly chose to wander listlessly around the convention floor repeating the statement in question to themselves under their breath while cups of coffee grew cold in their hands.

According to reports, the group later reconvened for a session from 1:00 a.m. to 3:45 a.m. in which they restlessly dissected what had been said word by word.

"Maybe it was said in jest," said Plano, TX overthinker Rahim Jacobson on the second day of the symposium, a suggestion that quickly sparked intense debate among those in attendance. "It's hard to tell if it was serious or not. But we would know if it was a joke, right?"

"And who would even joke around like that?" he added.

Following three days of feverish discussion, a consensus was finally reached Thursday in which participants reportedly agreed to put the whole thing out of their minds, after which attendees dispersed from the auditorium only to frantically call a follow-up symposium roughly 10 minutes later when new doubts arose.