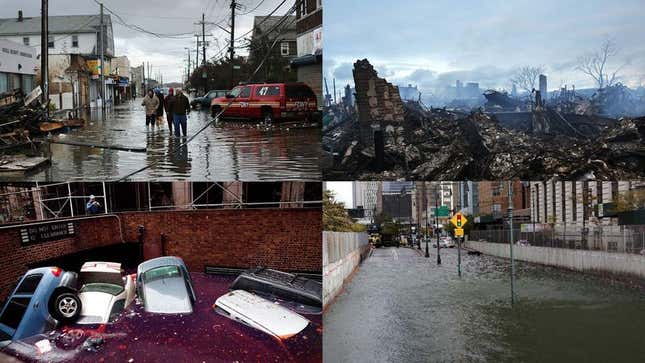 NEW YORK—Following Hurricane Sandy's destructive tear through the Northeast this week, the nation's 300 million citizens looked upon the trail of devastation and fully realized, for the first time, that this is just going to be something that happens from now on.
This Week's Most Viral News: September 29, 2023
Gradually comprehending that this sort of thing is now just a fact of life, citizens all across America stared blankly at images of destroyed homes, major cities paralyzed by flooding, and ravaged communities covered in debris, and finally acknowledged that this, apparently, is now a regular part of the human experience.
"Oh, I see—this is just going to be how it is from here on out," said New York City resident Brian Marcello, coming to terms with the fact that an immense storm that cripples mass transit systems and knocks out power for millions in the nation's largest metropolitan area can no longer be regarded as an isolated, freak incident, and will henceforth be just a normal thing that happens. "Hugely destructive weather events are going to keep happening, and they are going to get worse and worse, and living through them is something that will be a part of all our lives from now on, whether we like it or not."
"I get it now," Marcello added.
Faced with the prospect of long months before any of the widespread damage is truly repaired, the millions who reside along the Eastern Seaboard told reporters today they fully understood, for the first time, that natural disasters killing scores of Americans and costing billions of dollars are going to be routine events, not just in the immediate foreseeable future, but permanently.
Sources added that by early Wednesday morning, it abruptly occurred to millions more citizens that the news stories they've been seeing that feature displaced families, photos of debris, shut-down businesses, and government relief efforts have already started to feel "extremely familiar," because these are things that happen now.
"I was just watching a CNN news story about how much damage Sandy has caused in comparison to Katrina, Ike, or last year's storm that ravaged the Northeast, and it dawned on me: 'Ah, okay, being a human being on Planet Earth, pretty much no matter where you are, now involves the threat of one day having your home, city, or country decimated in a matter of hours by a severe weather event,'" Detroit resident Stacy Hillman said. "Looking at images of cities—actual American fucking cities—flooded with water is no longer an incredibly weird, unprecedented thing to see. It has happened before, it happened this week, and it will continue to happen again and again in the future, and to an even greater extent."
"So, then, I guess that what it means to be a member of human civilization has changed forever, pretty much," Hillman added. "And that this is the new world we live in."
A Reuters poll conducted earlier this week found that 43 percent of Americans reported finally accepting the fact that a potentially endless number of increasingly lethal natural disasters would likely occur throughout the coming decades, while as many as 18 percent of respondents said they were "almost relieved" knowing that the possibility of their entire life being washed away in an instant now existed.
"Right now, Americans all across the country are watching the aftermath of this storm and at long last recognizing that this is what life is like now," said Dr. Richard Morales, a climatologist at the University of Pennsylvania. "Admittedly, it could take a little while for some to fully acknowledge it, but at the end of the day, people will be much happier once they accept that they and their loved ones will likely suffer the consequences of an even stronger, more deadly hurricane at some point very soon. It's going to happen."
"I went through something very similar a few years ago when I finally came to terms with the fact that no one would ever listen to anything I said about global warming," Morales added. "And that it is entirely too late to do anything about it."