Jesus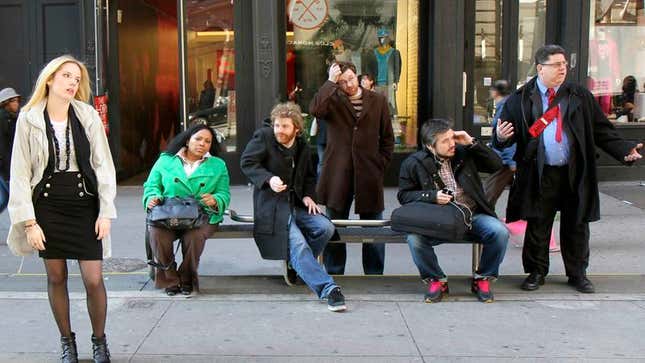 This Week's Most Viral News: September 22, 2023
NEW YORK—Pushed to the breaking point after constantly being taken to task for its shortcomings without ever hearing so much as a word of thanks for everything it does around here, an overwhelmed and infuriated nation announced Wednesday that it was trying, okay?
Jesus, sources confirmed.
Early reports acknowledged that while every aspect of the country might not be as picture-fucking-perfect as it could be, millions of Americans are working really hard, and considering the current shitty circumstances, they figured it might be nice if for once—just once—they didn't have someone riding their asses about it.
"We're doing the best we can here, for Christ's sake," said Syracuse, NY sporting goods store manager Eric Mahoney, who, like many citizens, threw up his hands in frustration over being endlessly hounded about every stupid little detail. "Honestly, what more could you possibly expect from us? What do you think we are, superheroes or something?"
"We don't need to be reminded that things aren't going so great every goddamn time we turn around—we get it, all right?" continued Mahoney, echoing the collective exasperation of countless Americans breaking their backs day in and day out without having one single thing to show for it. "So how about cutting us a little slack for a change instead of shitting on us at every opportunity?"
According to the results of a recent Reuters poll, 33 percent of U.S. residents want nothing more than two freakin' minutes when someone isn't continually breathing down their necks. 28 percent can't believe they're still putting up with all this horse shit, and for what? And, in response to comments that 46-year-old Dave Perelson of Richmond, VA seemed to be able to handle things just fine without always screwing up, roughly 700,000 Americans snapped, "Well, we can't all fucking be Dave, can we?"
Additionally, son-of-a-bitch, 67 percent of Americans reported.
"You know what? Fuck it," said Seattle-based software programmer Damien Truong, 27, one of the millions of people who are sick and tired of being talked down to like they're some kind of idiots or something. "If you really think you can do it so much better, then why don't you just take it from here?"
Maintaining that it was totally unreasonable to be held to such high standards, increasingly emotional citizens everywhere said they were really going through a lot right now, so please just get off their backs, okay?
"It's just…we've really been under the gun lately," said Jacksonville FL building superintendent Lawrence Donovan, holding back tears and struggling to get his words out. "With everything that's been going on, sometimes even getting the simplest stuff accomplished feels like climbing Mount Everest."
"Sure, maybe we could've done some things a little better or more carefully, but the pressure of trying to be so perfect all the time—it's killing us," Donovan added while being handed a tissue.
Many Americans said that maybe the best thing would be for them to take a couple days to regroup and get their heads together. Others, meanwhile, lamented the sleepless nights they've suffered just thinking about all the shit that still needs to get done, how it all just keeps piling up endlessly, and how it's impossible to stay on top of everything all the time.
Ultimately, the majority of the U.S. populace apologized for freaking out, but insisted they needed to be met halfway on this thing.
"Look, we probably shouldn't have lost it like that, but riding us about this shit just makes everything worse," said Timothy Caputo, a 57-year-old copy editor in Los Angeles. "How about taking the time to point out the things we did right for a change? Would that really be so hard?"
Fucking Christ, the nation added.