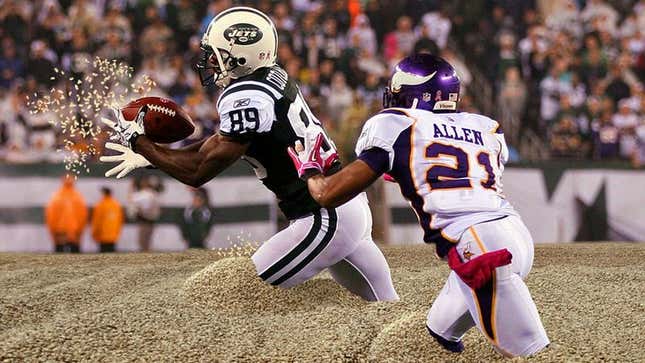 WASHINGTON—Days after the accidental passage of a bill allocating $30 trillion in federal subsidies to soybean producers, a massive tide of the protein-rich legumes has flooded the nation, crippling transportation networks, commerce, and public utilities, and profoundly disrupting American life.
"Soybeans are everywhere," Agriculture Secretary Tom Vilsack said Wednesday, noting that all 406 million acres of arable land in the United States have been converted to soybean cultivation as farmers sought a share of funds worth more than twice the gross domestic product. "Many citizens have shoveled out their driveways only to find that schools and businesses have been shut down. Millions more remain trapped indoors as windblown soybean drifts cover entire houses."
"For most, simply getting to the grocery store has become impossible," Vilsack continued. "Not that grocery stores have much in them besides soybeans at this point."
According to sources within the House Appropriations Committee, a misplaced decimal point deep inside the 279-page Farm Relief and Reform Act of 2010 increased the soy subsidy by roughly 1.75 million percent, precipitating the nationwide glut.
Damage from the continent-spanning blanket of soybeans—which ranges in depth from five feet in the nation's heartland to six inches along the coasts and in Hawaii—has been severe. All major metropolitan areas are reporting clogged sewers and streets; several counties in Nebraska have become invisible beneath towers of soybeans; and a dense patch in the Gulf states has begun fermenting into a thick, pungent soy sauce.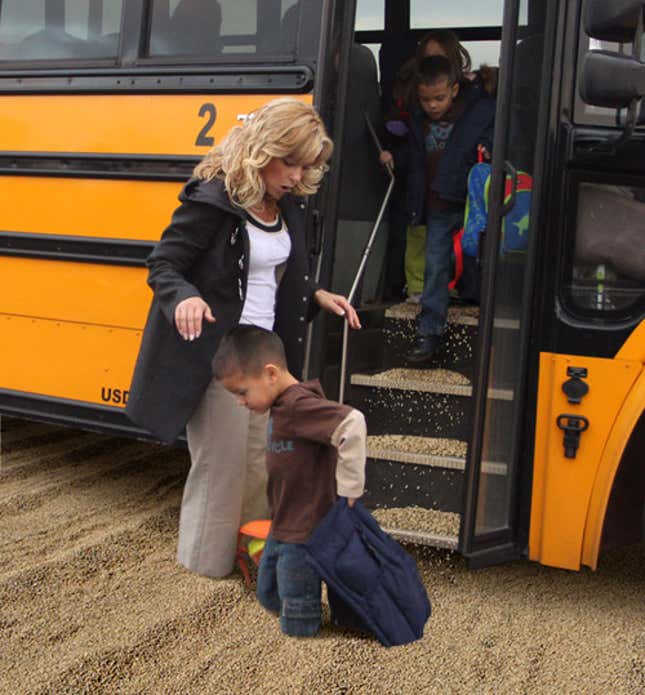 Interstate 80 remains impassable between Wilkes-Barre, PA and Laramie, WY.
"Our search and rescue teams simply can't keep up with the number of citizens—mostly children and the elderly—who have gone missing in the beans," Federal Emergency Management Agency administrator Craig Fugate said. "And frankly, we have no idea how to help the tens of thousands of Americans with soy allergies."
In response to the inundation, the Food and Drug Administration released a revised food pyramid Tuesday consisting entirely of soybeans and soybean-based products, as well as nutritional guidelines urging every American to eat eight servings of soybeans per hour.
Additionally, a bill authorizing the immediate construction of a 120-mile-diameter National Silo in the Nevada desert appears to have almost universal support, but has nonetheless stalled in the House, where members have not been able to assemble because their chamber is filled from floor to ceiling with soybeans.
In the Senate, meanwhile, efforts to repeal the subsidy have been held up by Sen. Chuck Grassley (R-IA), whose state now enjoys a median household income of $131 million.
"I'm not going to get into this silly debate about whether there are too many or too few soybeans," said Grassley, standing chest-deep in the hulled oilseeds as he addressed the Iowa Soybean Association. "The bottom line is this subsidy protects good, honest soybean jobs from being shipped overseas, and unlike my opponents, I choose to stand with American workers."
"Besides, they're just so delicious," added Grassley, shoving two heaping handfuls of soybeans into his mouth. "Who'd want to make them go away?"
With televisions showing images of families being rescued by helicopter from soybean- enshrouded rooftops, many Americans are comparing the crisis to the Great Dairy Surplus of the 1930s, which paralyzed the nation in a coating of rich savory butter. For some, however, the subsidy has brought prosperity.
"That soybean money really helped my business," said 52-year-old Donald Tuttle of Danville, IL, the so-called Sultan of Soy, who with an estimated net worth exceeding $250 billion is now regarded as the most powerful figure in American industry, politics, and media. "Used to be the only reward for a farmer's hard work was more debt. But look at me now—I just bought The New York Times."