WASHINGTON—Continuing in its mission to support excellence across a range of artistic disciplines, the National Endowment for the Arts announced Friday a new initiative allocating $80 million to discourage no-talent hacks from engaging in creative endeavors.
The independent federal agency said it intends to provide the nation's exceptionally unskilled and deluded artists with cash grants ranging from $10,000 to $25,000 in order to sway them from continuing with their derivative and atrocious work, thereby significantly bolstering the overall quality of art in the United States.
"In order to promote a flourishing artistic climate, we must use our resources to ensure that those individuals with the least talent stay away from the arts," NEA acting chairperson Joan Shigekawa told reporters at a press conference, flanked by existing pieces of insufferably trite art, including various examples of black-and-white photography and scrap-metal sculpture. "Providing the nation's inept amateurs with the funding they need to pursue hobbies and professions unrelated to fine arts will revitalize this country's creative output, furthering our goal of promoting works that aren't a complete embarrassment."
"The vitality and vibrancy of the American cultural landscape hinges on helping these clueless individuals realize their lack of potential," she continued.
According to Shigekawa, the NEA is actively seeking out deserving grant recipients whose absence from the artistic community will drastically enhance it, including incompetent aspirants in the fields of collage, interpretive dance, and found poetry. While the organization is urging hopeless, awful artists to apply for its quarterly disbursements and fellowship programs, it is reportedly also calling on the directors of the nation's printmaking workshops, alternative theatre troupes, pottery studios, and creative writing circles to nominate their most unpromising hacks.
G/O Media may get a commission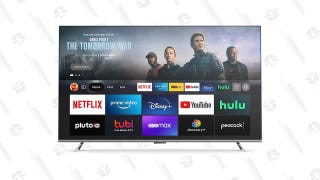 Save 46%
Fire TV 55" Omni Series 4K UHD Smart TV
The NEA claimed that those candidates who are unable to demonstrate an ability to create work that is not insultingly abominable will receive financial endowments enabling them to make a lasting positive impact on the nation's overall arts scene by abandoning their creative aspirations altogether.
Shigekawa noted that these awards would also include extended residencies in various office jobs in which these talentless individuals can fully commit their energies to not producing what they consider art.
"We're looking for a lack of aptitude, but also a specific type of unfounded confidence that, if properly stymied, will allow the arts in this country to thrive for years to come," Shigekawa said, adding that the NEA has already reached out to numerous disgraces who specialize in the areas of street art and documentary filmmaking. "The chapbook self-publishers, the musique concrète composers, the performance artists—with these grants, we can give these people the support they need to stop what they're doing right now."
"The future of art depends on it," she continued, noting that her organization is also immediately establishing a program to provide $100,000 major grants to impede the work of oblivious novices who attempt to imbue their work with any kind of political statement.
According to agency sources, the NEA has already begun considering thousands of lousy, pretentious grant applicants, having recently named its first award recipient: Austin, TX mixed media artist Edith Watt, who told reporters she is excited to have the opportunity to finally contribute something meaningful to the art world.
"After years of toiling fruitlessly, I feel like I'm finally earning the art community's respect," said Watt, 24, who through the NEA's endowment program has been given a generous weekly stipend that she stands to forfeit in the event she is caught resuming work on her insipid, banal compositions. "This grant has helped me realize the things that I'm incapable of, and it has allowed me to achieve the dream that so many others have had for me since I first started out as an artist."
"If only more artists could have this opportunity," Watt added.