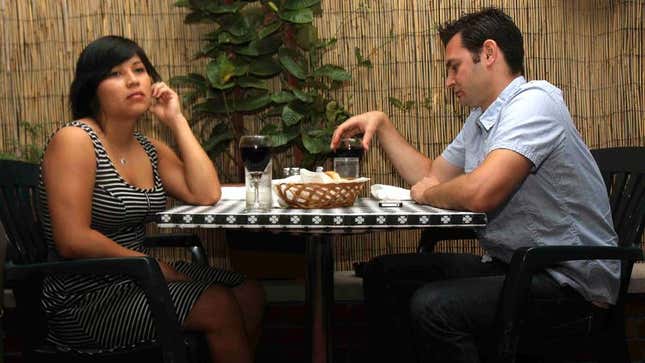 PROVIDENCE, RI—According to a survey released Tuesday by psychologists at Brown University, couples in the United States have been going through a bit of a rough patch lately, and if something doesn't change, and change soon, the future of their relationships may be in doubt.
This Week's Most Viral News: September 22, 2023
The nationwide poll, which asked about topics ranging from communication issues to the health of a couple's sex life, found not only that things were pretty much on the rocks, but also that many people weren't even sure anymore if their partners were the same people they once fell in love with.
"Across the board, the American public admitted the initial spark just isn't there anymore and, however painful the thought is, it may finally be time to reassess things," said Raymond P. Cullen, who headed the study. "While most readily agreed it's unrealistic to expect there to be fireworks all the time like when they first started dating, they also said they couldn't help but feel like they were lying when they told friends they were still happy."
"All the data point to things being more than a little shaky with the nation's couples right now," he continued. "And what's worse, many feel that if they tried to talked openly about it, their partners wouldn't be able to truly hear them."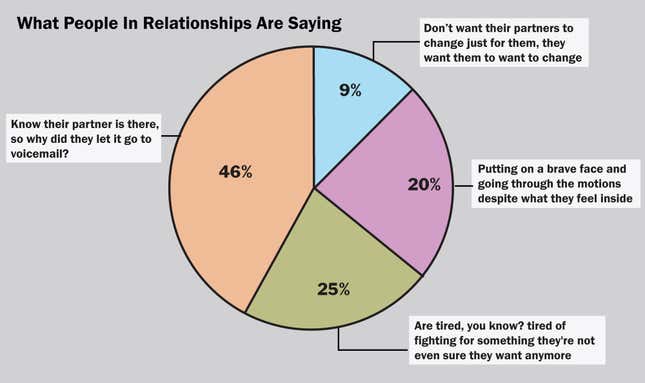 Among those surveyed, roughly 46 percent admitted their relationships were stuck in a rut or serious funk, with 33 percent going so far as to say that even though they've had their share of squabbles in the past, it's never been this bad. When asked about their long-term outlooks, 48 percent of respondents grew silent for a while and reported that maybe this person wasn't the one for them after all.
More than half answered yes to a question asking whether, in the past 30 days, they had either dropped their fork and started to cry at the dinner table, stared wistfully off into space thinking about their first teenage romances, or slept alone in the guest bedroom without saying exactly why. A significant number also said they have tried, Lord knows they've tried, to accept their partners' inadequacies, because "Let's face it, nobody's perfect," but to no avail.
In addition, researchers noted that an unexpectedly high 63 percent of people said that they love her, they really do, but…
"From the thousands of responses we collected, it seems that many American couples are fighting just to fight," Cullen said. "For example, maybe a wife is always angry that her husband's working too late or spending too much time with his friends on the weekends, even though it's basically been that way as long as they've been together."
"Or maybe when you talk to your partner it's like talking to a brick wall, and you're forced to ask yourself some really tough questions," he added quietly. "Because you feel like you just don't know anything for certain anymore."
Some of Cullen's colleagues have questioned the study's significance, claiming that such troubles are just a natural part of all relationships, which must weather the bad times as well as the good.
However, Cullen was quick to dismiss these arguments, pointing out that a significant number of survey respondents said that, until recently, their partners—including, in one case, a wife of "six and a half goddamn years"—have never, ever responded to text messages and emails with curt one-word answers like "fine" or "k."
"With a large percentage of the nation's couples, it's like sometimes…sometimes when their partner's out at night, they don't even know if they can trust her," said Cullen, his voice shaking. "And that kills me, you know? It kills me to be thinking about that."
Added Cullen: "Oh God, Rebecca, what's happening to us? Where did things go wrong?"