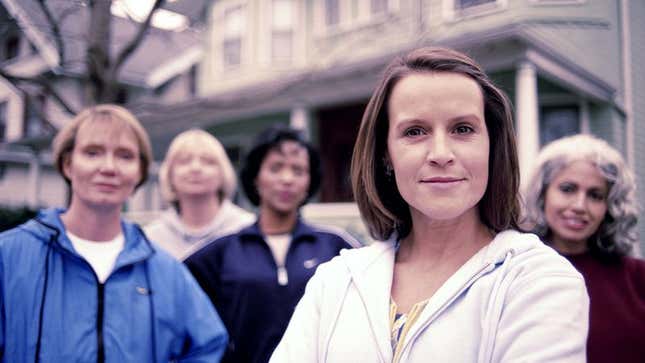 DES MOINES, IA—Sitting down on their living room couches Friday after running a few household errands, mothers across the nation told their children today to "buckle the fuck up" for the 2012 London Olympic Opening Ceremony, adding that the event was sure to be "one hell of a wild-ass ride."
This Week's Most Viral News: September 22, 2023
"Hold on to your hats, motherfuckers, because you're about to get knocked on your asses by some real goddamned pageantry," said local mother Sarah Foster, 46, telling her children Daniel, 8, and Cindy, 14, that the three-hour plus broadcast was going to feature "an ever-loving shitload of colorful choreography." "As soon as Greece gets out there and that Parade of Athletes gets going, shit's gonna get buck wild, believe me."
"Hope you're ready, bitches," Foster added while folding laundry.
Saying that the show would "really fucking kick it up a notch" after the International Olympic Committee president started introducing each nation's representatives, mothers reportedly reminded their children that it was going to be "balls-to-the-wall with multicultural pomp and splendor" from the minute "those goddamn rings roll across that screen" to "the second some magnificent English cocksucker lights up that Olympic torch."
"Mother of fucking Christ, strap in tight and batten down the hatches, you sons of bitches, because these wondrous sets and props are going to blow the brains straight out of your skull," said Toledo, OH mother Martha Crawford to her 13-year-old son, Aaron, as she handed him a snack plate of carrots and hummus. "You better get yourself a clean pair of underwear ready, because when those fucking flag bearers start running, you'll be creaming your jeans in no time."
According to a Zogby poll, 43 percent of mothers said, "You're going to lose your shit when you see this ornate goddamned costumery," with 31 percent noting, "I hope you like stirring representations of English cultural history, 'cause this shit is about to tear your ass to shreds," and the remaining 26 percent declaring, "You think you've seen flags before, huh? Oh, you're about to see a goddamned plethora of fucking flags waving in perfect formation, so step back, bitch."
At press time, the mothers told reporters that "if you think this opening ceremony is a beast, wait until your ass gets a load of the motherfucking women's gymnastics finals."