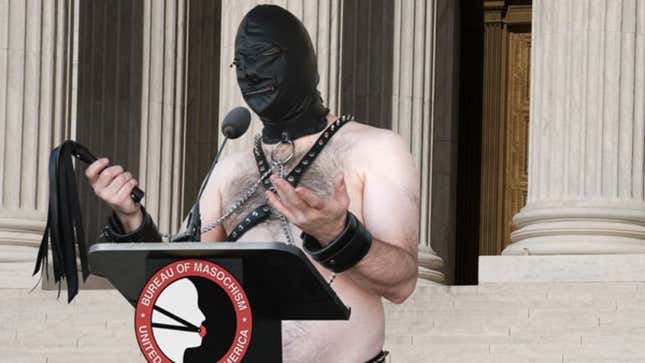 WASHINGTON—A new study released this week by the U.S. Bureau of Masochism has concluded that American nipples are critically under-clamped, bolstering long-held suspicions that the nation is rapidly losing interest in the thin, delectable line between pleasure and pain.
This Week's Most Viral News: September 29, 2023
According to the study, which surveyed a wide swath of citizens who have been very, very bad, 78 percent of all U.S. nipples are not being pinched, tweaked, or otherwise constricted in a severe enough manner. In addition, the study found that nearly 90 percent of all Americans are not currently down on their hands and knees, begging for more.
"The vast majority of U.S. citizens are just not receiving the physical punishment they deserve," said Masochism Bureau director Geoff Knowlton, who was permitted by his mistress, Alexandria, to meet with reporters despite being unfit for anything but groveling at her boot heels. "Unless something is done—whether with a riding crop, a stiff wooden paddle, or a series of humiliating commands to bark like a dog—this problem will only get worse."
"We are sniveling, spineless scum," Knowlton continued. "And it's time we were taught a lesson."
Though disconcerting to many, the Masochism Bureau's findings regarding nipple-abuse were not unexpected. Hooded sources confirmed the cruelty of erotically charged acts has dropped sharply in the past decade, which has also seen declines in the overall use of bondage gear, the tightness of leather harnesses, and the number of instances of naked, dominated citizens screaming out in delight while being flogged repeatedly against the hindquarters.
The use of hot, ripe eggplants has also reportedly fallen off.
"Most Americans we spoke to indicated that they had never engaged in any form of formalized nipple torture," said Masochism Bureau researcher Brian Henley. "Furthermore, only 3 percent of citizens indicated that they were likely to dangle heavy weights from their outstretched areolas while being ordered to crawl inside of a small metal cage."
Added Henley, "I'm sorry, but that's just a frightening statistic."
Despite the pessimistic conclusions of the study, researchers said that robust nipple-clamping and flagellation were still occurring in small pockets across the country, giving them hope that there could be a national masochism resurgence someday.
"For whatever reason, certain regions have bucked the trend," Knowlton said. "If we can figure out why a suburb like Coral Springs, FL, with its predominantly elderly and conservative population, has actually seen its rate of urolagnia and other water sports increase, we could potentially use that information to stage a turnaround."
Many have praised the study as an urgently needed wake-up call, saying they hope it will encourage more direct government involvement in the public's eroticized pain needs.
"With any luck, this study is just the beginning," Topeka, KS submissive Glenn Lange said. "Unless we want to live in a nation where you'll only find nipple vices or welting rods in a museum, the government needs to step up."
However, citizens like Nathan Cardozzi of Boston disagreed, claiming that increased government regulation would only stymie what has always been a private act of exquisite torture between two or more consenting adults.
"Mmmph mmmph mrrrr mmmmph," Cardozzi said through the ball gag he was forced to wear to plug his filthy voice hole. "Mmmmrh mrrrhhhhh mmmph mummm."
"Mmmrphmphmmhmmmrh," he added, slowly shaking his head.
The Bureau of Masochism study offered several recommendations aimed at reversing the downward trend in nipple-clamping, all of which were redacted by their superiors at the Department of Sadism, who ordered them to shut up at once and get back to licking the floors clean.