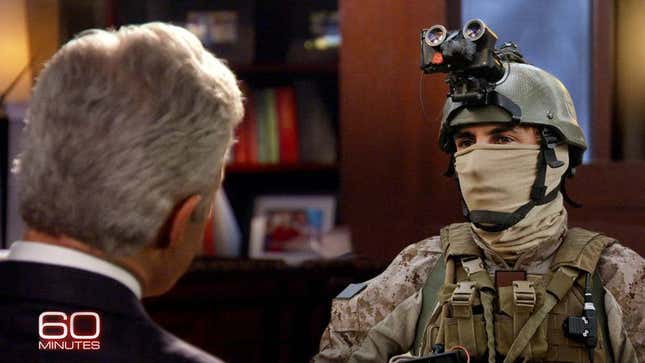 WASHINGTON—Describing the group as one of the most advanced and highly skilled special operations units in the world, sources within the Defense Department revealed Friday that the U.S. Navy had formed an elite new SEAL team dedicated solely to writing best-selling tell-all books.
This Week's Most Viral News: September 29, 2023
Speaking on condition of anonymity, sources confirmed that the task force was created earlier this year and that its members have undergone extensive training to prepare them to quickly and efficiently release popular accounts of covert operations in the War on Terror. The 32-man special forces team, assembled from the best autobiographers within existing Navy SEAL squads, is reportedly capable of writing firsthand narratives of highly classified missions under even the harshest conditions and within the narrowest time frames.
"We have conditioned these soldiers, who already possessed remarkable natural writing abilities, to publish sensational battlefield stories far beyond what an ordinary serviceman is capable of producing," said a Pentagon official, adding that the elite commandos can complete a stirring first draft revealing advanced and confidential special forces methods in as little as six weeks. "Whether it's about a top-secret mission to assassinate the leader of a terrorist cell in Yemen, or the amazing story of a midnight raid in Libya that supposedly never happened, these guys can sell 1 million copies without breaking a sweat."
"When there's a potentially highly profitable story that needs to be told, this is the group that gets the call," he added.
According to sources, candidates for the unit must first undergo a grueling eight-month training course to provide them with the literary skills required to ensure their work ends up atop The New York Times Best Seller list for at least 12 weeks. Sources confirmed that an intensive battery of writing drills, which weeds out nearly 90 percent of the prospective authors, instructs SEALs on how to fully block out distractions while they focus on structure and style, as well as how to quickly identify the juiciest excerpts for pre-release marketing.
In addition to their rigorous training, SEAL team members are reportedly equipped with state-of-the-art technology to assist them with their manuscripts, including military-grade dictaphones guaranteed to function in all climates and terrains, as well as an encrypted word-processing software designed specifically for them by the CIA. Leaked memos indicate that the soldiers are also aided by an experienced support team of ghostwriters and copy editors dedicated to ensuring that their work, which elucidates the U.S. military's most high-profile missions, is fully polished and highly marketable.
The battle-hardened soldiers have also been known to quietly secure a $100,000 book deal with Dutton Penguin in as little as 15 minutes, according to sources.
"These soldiers are equipped for whatever press request is thrown at them—they are fully prepared to deploy with 24 hours notice to give promotional interviews on nearly any television program in the world," said a Joint Special Operations Command official who requested we not use his name, adding that the men are often only given a short briefing from their commanding officers to prep them for an intense sit-down conversation with a seasoned reporter, be it on Charlie Rose, 60 Minutes, or even The View. "They have incredible levels of endurance. Oftentimes they're sent out on book-signing tours of six months or more. Given the demands of today's publishing industry, they may only see their family a few times throughout the year."
"But the pressure of delivering one of the year's best pieces of nonfiction doesn't get to them though," the source added. "These guys have ice water in their veins."
Furthermore, officials within the Pentagon confirmed that, in addition to their traditional role as special ops authors, the men are also ready at a moment's notice to carry out adaptations of their books into films or assist in the production of eye-opening documentaries when deemed necessary.
"Few among us could ever endure what these men face on a daily basis, holed up in their empty rooms, cranking out page after page of their heart-pounding first-person thriller," said the unnamed JSOC official. "We certainly owe them a debt of gratitude for the sacrifices they have made and their contributions to War-on-Terror literature. And as long as they maintain their silence, they do all of this without anyone knowing the remarkable efforts they've made."
"These selfless individuals only care about one thing: ensuring that every single American has access to a captivating page-turner," he added.