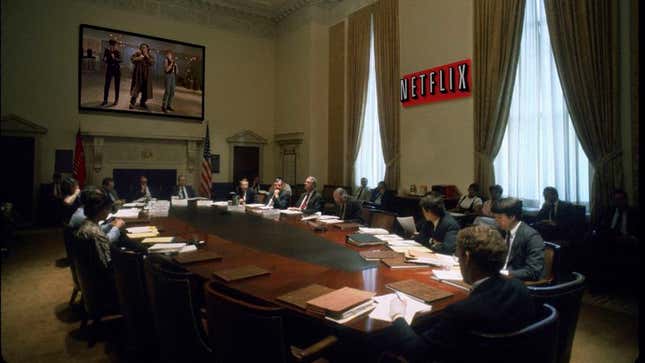 LOS GATOS, CA—According to sources within the company, Netflix's board of directors held a tense series of meetings Friday to decide whether the 1996 fantasy-comedy Michael, starring actor John Travolta, should be included among the movies available through its instant-viewing program.
This Week's Most Viral News: September 22, 2023
Netflix, which debuted its Watch Instantly service in 2007, boasts a library of tens of thousands of titles, each of which requires at least 70 percent approval from the seven-member board before it is cleared for streaming.
Reports indicated the final decision on whether to include the Nora Ephron–directed Michael, in which a vulgar, cigarette-smoking angel visits Earth, is still pending and has required numerous rounds of voting from the board.
"Michael would be an invaluable addition to our catalog, and I strongly recommend we act on this immediately," chief content officer Ted Sarandos reportedly said moments after the 8 a.m. meeting was officially called to order. "The film is a PG-rated romp with broad cross-generational appeal, and Travolta is a huge draw for the 45-to-60-year-old demographic, which we've really been struggling with lately."
"Some may call it a risk, but frankly, Michael is a risk I'm willing to take," Sarandos continued. "We can't afford to wait around on this. We need to push it through today."
As with any new film under consideration by Netflix, executives held two back-to-back screenings of Michael: the first to get a general feel for the picture, and the second for critical analysis. They then discussed the movie in detail, carefully scrutinizing each scene and reviewing such criteria as story, acting quality, number of quotable lines of dialogue, and level of enjoyment upon subsequent viewings.
Sources said that while the procedure to add a movie can be relatively straightforward, as with unanimously approved titles such as Iron Man 2 and, some films, like Never Been Kissed, Dante's Peak, and Rango, have been far more contentious, often resulting in fiery board room clashes and even threats to quit the company.
"The board quickly reached a favorable consensus on the bar scene where Michael dances to 'Chain Of Fools,'" said a source familiar with the proceedings, speaking on condition of anonymity. "But there were bitter disagreements over the film's ending, in which Michael and Pansy dance together while time is frozen. [Board members] Jay [Hoag] and Ann [Mather] felt it was an excellent way to wrap things up, but others found it both corny and totally anticlimactic. That pretty much brought the meeting to a standstill."
Stretching late into the evening, the Michael meetings were reportedly punctuated by several executives storming out of the conference room following particularly fierce disputes over the quality of Andie MacDowell's performance, as well as by heated exchanges over the quirky casting of actor William Hurt as cynical tabloid journalist Frank Quinlan.
"Obviously, I can't get into all the specifics of what we're discussing in there," said executive George Battle, speaking to reporters outside of Netflix headquarters during a short reprieve from the contentious talks. "But I will say that if [company director] Rich [Barton] honestly thinks Andie MacDowell was better in Michael than she was in Short Cuts—or even Multiplicity, for that matter—then he's out of his goddamn mind. And that you can quote me on."
At one point, sources said, frustrated board member Timothy Haley, known throughout the company as a strong Michael proponent, stood up and slammed his fists on the table, shouting that even questioning whether the film merited inclusion in the Watch Instantly program meant the company had "lost the very ideals upon which it was founded."
At approximately 11 p.m., Netflix co-founder and CEO Reed Hastings reportedly made one last effort to sway the board to approve the move.
"Michael represents the next step for our company," Hastings wrote in a company-wide e-mail obtained by reporters. "The stockholders may not approve of the decision initially, but I'm willing to stake my whole career on its success. And if I go down for this one, then so be it. That's how strongly I feel."
"I love the part when Michael brings the dog back to life after the truck accident, and then his wings fall off," Hastings added.
At press time, sources confirmed the board had narrowly passed the motion to introduce Michael into the Netflix streaming catalog, but remained deadlocked over the 1999 baseball-themed romantic drama For Love Of The Game.