CARSON CITY, NV—The Nevada legislature voted Monday to repeal all laws within the state and prohibit the proposal of any new laws.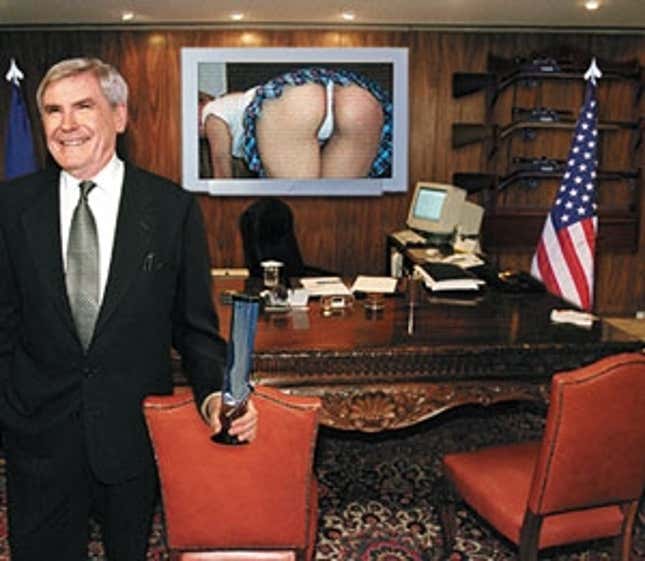 CDC Issues Dire Warning That Nick Cannon Is Feeling Horny
"Laws have been good to the state of Nevada," said Gov. Kenny Guinn between swigs of Jim Beam. "But ultimately, after carefully considering what's best for the long-term economic growth and prosperity of the state, we decided that lawfulness just wasn't a good idea."
Nevada's laws, Guinn said, will be slowly phased out over a five-year period, easing residents into a state of total anarchy. Gambling and prostitution have already been decriminalized, and car theft is slated to follow in 2004. Bans on murder and rape will be lifted in 2007.
Though the elimination of the rule of law has been a topic of discussion in Carson City for some time, it only recently gained favor among a majority of state legislators.
"Critics always argued that if we allowed gambling and prostitution, it was just a short leap to lawlessness," said Senate Majority Leader William Raggio (R-Washoe), flanked by a pair of armed strippers. "It didn't sink in for a while, but we eventually just sort of looked at each other and said, 'Why not?' Without laws, Nevada could offer a whole range of entertainment and lifestyle options never before imagined."
As a result of the eradication of laws, more than 20,000 police officers and other law-enforcement officials stand to lose their jobs. The loss should be offset, however, with the creation of jobs in new fields.
"Nothing stimulates employment like lawlessness," Raggio said. "We estimate that this move will create more than 400,000 jobs in such newly legal professions as prizefight rigger, ticket scalper, drug runner, bribe coordinator, and arsonist. In the construction industry alone, some 20,000 workers will be needed to build whorehouses and install stripper poles in fast-food restaurants."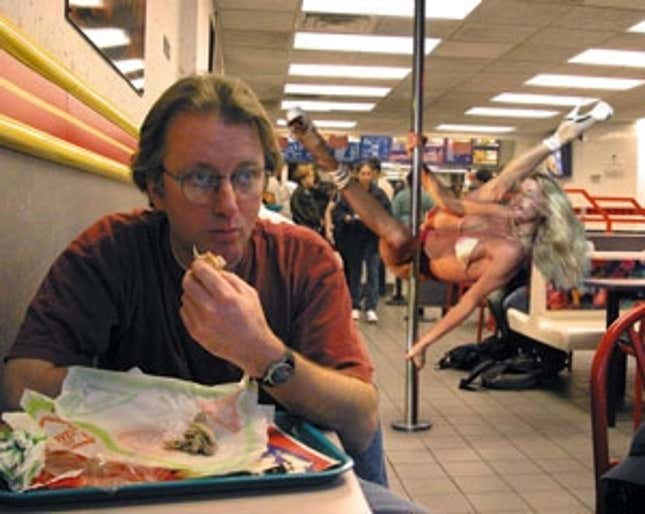 Though Monday's decision eliminates the need for them, Nevada's lawmakers will retain their jobs.
"The people of Nevada can rest assured that their state senators and assemblymen will still be taking care of their needs, be they sex, drugs, or a quick C-note to lay down on the Lakers plus six," Guinn said. "As for Nevada's elected officials in Washington, they'll still be in Congress. But, to be honest, they won't be doing a heck of a lot. They'll mainly just be hanging out, seeing what the other states are up to."
Guinn "highly recommended" that Nevada residents buy a gun and learn how to use it if they plan to remain in the state beyond Dec. 31, when all gun-purchasing and gun-use regulations are repealed.
"When the clock strikes midnight on Jan. 1, 2003, it's survival of the fittest," Guinn said. "My lovely wife Dema can already pick off tin cans from 50 feet, and my son is becoming highly proficient in explosives. I strongly suggest you all do likewise."
Reaction from Nevada's residents has been largely positive.
"I've been waiting for this moment for 20 years," said Reno blackjack dealer Dale Everson, polishing his new machete while enjoying a lapdance. "Pretty soon, I won't have to worry about speeding tickets or emissions tests. Only the common sense and inherent decency of the people of Nevada will govern this state. That'll be more than enough for me."