HOUSTON—The highly touted "Internet Revolution" took another major step forward Monday, when Compaq unveiled the breakthrough Compaq Presario 6000, a $4,995 multimedia computer system that enables users to download files containing network-television programs and display them on a computer monitor.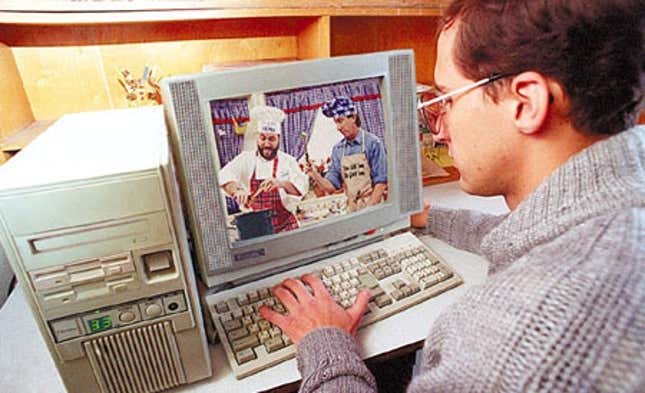 This Week's Most Viral News: September 22, 2023
"Imagine watching TV at the click of a mouse, instead of a remote control," Compaq director of product development Bill Welborne said. "With the Compaq Presario 6000 and a few reasonably priced add-ons, you'll never have to watch TV on a television again."
According to Welborne, for a $49 monthly fee, owners of the Presario 6000 will be able to access network websites, where 300MB ".vid files" will be available for download. The downloaded files can then be conveniently viewed on the Presario 6000 using a special TV-dedicated version of Netscape Communicator 4.0, priced at just $89.95.
A sound card enabling users to enjoy the sound that accompanies the downloaded TV images is also available for $349.
"Pictures, sound—this is the promise of the Multimedia Age realized," Welborne said.
Demonstrating the technology, Welborne stood proudly beside a prototype of the Presario 6000 as it displayed an eight-minute segment from a recent 3rd Rock From The Sun episode, downloaded from an NBC server in under 75 minutes.
"Please note that this is a television program," Welborne said, "but it is being displayed on a computer monitor."
More exciting still, the viewing can occur in real-time concurrent with the download, provided the user owns a dedicated T1 Internet connection.
"Yes, the image is somewhat grainy and limited to just six frames per second," Welborne said. "But the technology will only improve as 466 MHz processors with more efficient Pipeline Burst Cache and Accelerated Graphics Ports with 10 MB VRAM become standard in the consumer marketplace. And when they do, the images will be remarkably crisp and detailed, every bit as good as that of, say, a 19-inch Philips-Magnavox TV."
"This is incredible," said Wayne Messers, a Huntington Beach, CA, systems analyst who sampled the Presario 6000 last weekend at the National Computer And Electronics Expo in San Diego. "I'm watching TV, but there's a keyboard in front of the screen."
Added Messers: "There's also a disk drive to the left of the screen."
"When I buy my 6000, I'm going to have all my co-workers over to view the first-ever Spin City episode downloaded from the Internet," said Peter Rinaldi of Escondido, CA. "I feel like I'm a part of history just buying this product."
The Presario 6000 will be the first computer to feature the forthcoming 550 MHz Intel Pentium III processor, with MMX2(TM) technology. It is this revolutionary new chip that will enable the Presario 6000 to play television programs on its monitor, a capability virtually unheard-of in an electronic device.
As for the future, Compaq promises even more astounding breakthroughs.
"An even bolder technology still in the planning stages involves a plug-in computer peripheral featuring rows of metal coils which heat up when activated," Welborne said. "Once this device is perfected, computer users will actually be able to convert bread into toast. The future is now."