WASHINGTON DC—Senator Bill Frist (R–TN) introduced a controversial new bill Tuesday that would severely limit the ability of sharks to "mutilate the institution of marriage until it is completely unrecognizable."
"For too long, we've stood by as our most sacred institution has been thrashed, bit by bit, by these amoral predators," said Frist at a press conference, standing in front of a detailed diagram of a great white shark. "Marriage is a union between one man and one woman, and no shark should come between them with its powerful jaws and massive dorsal fin."
This Week's Most Viral News: September 29, 2023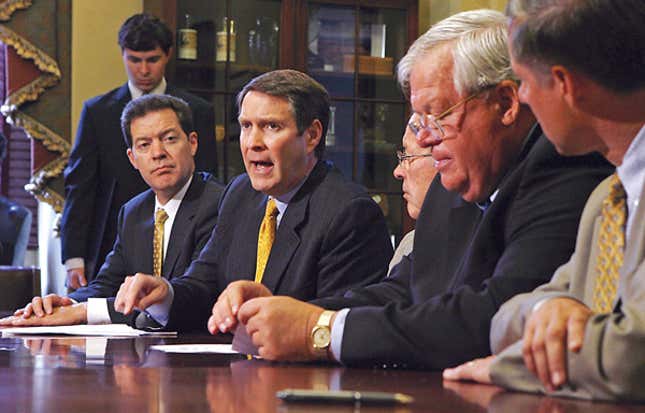 Bill S-691, also known as The Protection Of Marital Extremities Act, was co-sponsored by Mel Martinez (R–FL), who said that, as a devoted husband, he would not want his own 25-year marriage to be split to pieces by a shark, and hinted that opponents of the bill were in fact aiding the fish in their "murderous ways."
"Liberals and Democrats would have you believe that sharks pose no threat to married couples," Martinez said. "They tell us that sharks should just be left alone to mind their own business, and they won't do anyone any harm. But we say it's time for those of us with backbone to stand up for what we believe in—before that backbone is torn violently from our torsos by these soulless, underwater killers."
Added Martinez: "Marriage is a sacred institution, but it is also very fragile, especially when coming into contact with the saw-edged teeth of a bloodthirsty bull shark."
Frist said it was vital that Congress act sooner than later.
"Sharks can smell a healthy, vibrant marriage from miles away, and it doesn't matter whether the couple are celebrating their 50th anniversary or are on their honeymoon—no one is safe," Frist said. He then held up a photo of a lifeless, newly caught shark hanging behind a happily married couple, which he said was meant to show sharks everywhere that the U.S. government "means business."
"It's simply a matter of faith," Frist added. "And I have absolute faith that, if we do nothing, we'll see many more families torn apart."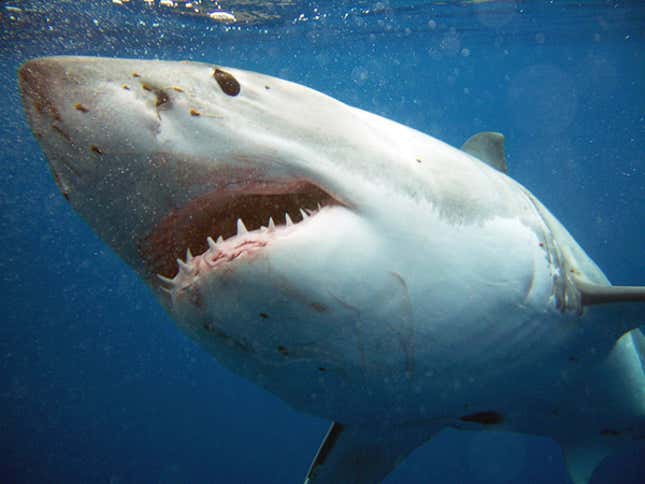 Despite the fact that the bill calls for mandatory fines of up to $100,000 and a permanent designation on the Marriage Offenders National Registry for any shark found guilty under the new guidelines, some conservative groups still complain that it does not go far enough.
"This bill focuses too much on the species who have attacked marriage in the past, such as the hammerhead, oceanic whitetip, and tiger sharks, but we need protection against all sharks," said Nathan Comino, president of The Quint Group, a conservative anti-shark think tank. "Scientific evidence shows that the once-indifferent whale shark is now angrier than ever over holy matrimony. We can't afford to ignore the facts."
Critics also complained that the language in the bill regarding jellyfish was too vague, leaving a number of loopholes whereby they could escape prosecution.
According to recent polls, only 22 percent of voters who live in shark-infested areas on either of the country's coasts say they are "very worried" about the damage sharks could wreak on married couples, while that number jumps to 86 percent in more conservative, landlocked, regions of the South and Midwest—a statistic that opponents of the new bill are using to bolster their argument.
"Republicans are once again playing the fear card, squashing the potential progress this country could make by accepting sharks into the mainstream," said Eli Pariser, a member of the liberal group Move On. "Yes, sharks look different and act different. But that doesn't mean they shouldn't have the right to choose their own lifestyles and swim with married couples."
While opponents of anti-shark legislation have been vocal, some Democrats who say they support sharks' rights have been careful not to oppose the bill outright.
"I believe they should be able to swim and feed as they always have, but I do not condone sharks attacking marriage," Sen. John Kerry (D–MA) said. "This is an issue best left up to the individual states, whose residents know better than anyone which of their waters are safe to be married in."
Frist remained confident, however, that the bill would have support in the Senate.
"The endless onslaught from activist judges, liberal media, and sharks ends today," Frist said. "Nor have we forgotten the other threats marriage faces, and this bill sends an unmistakable message to rattlesnakes, mountain lions, and lightning that we are dead serious about protecting marriage."